HOCO 2.No: Limited interest affects senior class funds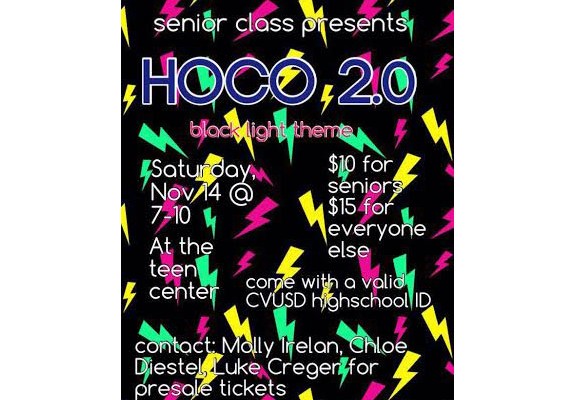 Following homecoming, the senior class planned a "HOCO 2.0" dance, but it was cancelled due to a lack of student interest. The dance was intended to be a fundraiser for the senior class, which is low on funds.
Only 13 people bought tickets to the dance, which had a goal of raising over $3000.
"I think there wasn't enough notice and people just didn't want to set aside the time this year," said Madeline Tomlinson, senior and ASG president.
This raises the question of whether the senior class has enough money to finance its activities, which include the senior picnic and grad night.
"The senior class has already sold senior t-shirts and sweatshirts as our first fundraiser," said Molly Irelan, senior class president. "We currently only have about half the funds to cover our senior activities."
According to Irelan, part of the reasons for the low funds this year is a lack of proceeds from last year's prom.  
"To many people's surprise, prom is actually planned by the junior class for the seniors. So last year we planned prom at Universal Studios. That's why we have such low funds," Irelan said.
In addition, Visual Photography did not return the 50 percent of the $22 senior sitting fee that they donate to the senior class every year.  Unfortunately, this loss will have an effect on the pricing of senior activities this year, as the class cannot subsidize upfront costs.
Tomlinson and Irelan both emphasize that fundraisers such as restaurant nights, such as the guacamole squashing night held at Sharky's last Wednesday, are crucial to having better senior activities.
"As long as we keep a positive mindset and work efficiently I think we can raise our funds to be able to have a great senior picnic," Irelan said. "The more money we raise, the cheaper our senior picnic will be. So it's super important to come out and support the class of 2016."