IB Theatre gains new inspirations from "Cinderella"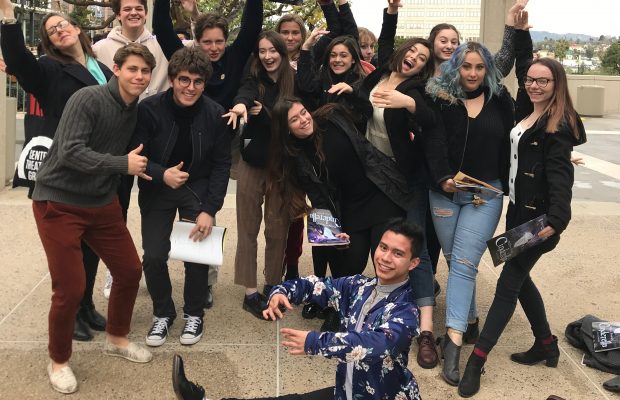 The clock strikes 8:15 a.m., as the school bell starts ringing, and the students hurry into their pumpkin-colored school bus and head off to the Ahmanson Theatre. For their field trip, the IB Theatre class had the opportunity to go to the Ahmanson Theatre to see the production of "Cinderella."
After seeing a professional performance, the students were able to get insights on how to better improve the school performances in different aspects. Also, students were able to be inspired for their IB tests coming up in March and April. From directing and acting to stage design and costumes, they expanded their knowledge and received new inspirations in each category.
"With our Director's Notebook, we take a published play and create our own vision with it, writing out how we would direct the show, stage the play, with lighting, sets, costumes and all that jazz in theatre," Charles Ocampo, senior, said.
Ocampo has been an active member of the NPHS theatre department for four years. His favorite part of being in theatre is being able to meet people from different backgrounds but who also share the same passion for performance. Going on this field trip, he especially enjoyed seeing students from different schools who are "just as passionate about theatre and are involved with supporting live performance."
With the help from the Center Theatre Group, the IB Theatre students were able to apply to a student matinee program. This program gives students from Southern California the opportunity to watch theatre shows for free. The whole class received free tickets to three shows: "Cinderella," "Lackawanna Blues" and "Falsettos" — the latter two are later in the year.
Unlike the Cinderella story everyone knows, this show was set in 1940 war-torn London during World War II. Cinderella was a woman part of the Blitzkrieg campaign during that time period with her fairy godmother as her Guardian Angel. Without any singing or voice acting, the whole performance was a ballet that conveyed the story through movements only.  
Craig Hastings, senior, has been in theatre for four years and participated in many of the school shows. He was the director for the Fall 18 hour, the musical "Little shop of Horrors" and Mystery Dinner Theatre. He loved the performance in the field trip and how it was unique and well designed.
"The show was very interesting and captivated the audience throughout the entire show," Hastings said. "It had really good design elements and the dancers knew every step, everything was purposeful and had meaning to the production."
Celina Kott, senior, has also been a member of the school's theatre department since freshman year. She noticed for many of her classmates, it was the first time going to the Ahmanson Theatre.
"Some of us cannot afford to go out to theatres and some of us do not have access to that kind of experience so it is really cool that your class can provide that. A performance can be life changing," Kott said.  
After the day of the performance, all the students gathered in class and shared their inspirations from the field trip.
"We will definitely be seeing more advanced usage of tech elements like projections and new concepts with our sets," Ocampo said.