In memory of Mrs. Sanders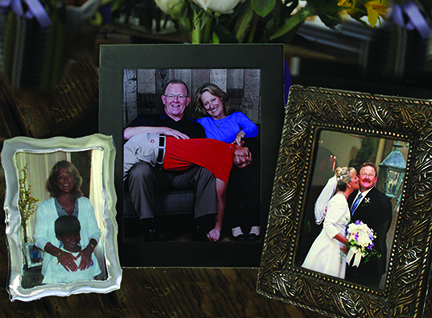 An energetic smile, signature bright sweater and deep passion for education. Teresa Miller Sanders embodied all of these and much more. She passed away on Nov. 19 after a long battle with stomach cancer. Known around campus as Teri, she was a beloved English teacher who was integral to the Newbury Park High School community. She connected with students and fellow teachers to create a lasting legacy in the school, leaving a void in countless people's hearts. After only a few days of notice, people gathered in the Performing Arts Center on Nov. 23 to celebrate her life as an English teacher, colleague and family member.
Her impact
Her podium is an indication of everything she embodied and meant to her students. Hundreds of signatures of former students cover the podium. The podium is a physical manifestation of the love she gave to the students she taught. Students on campus knew Teri Sanders as a transformative English teacher. She taught English 9 Honors and was often the first teacher students had in high school. Remembered for her positive personality, sense of humor and welcoming environment, she touched the hearts of many at NPHS. 
Annika Kanugo, sophomore, had Teri Sanders for English during her first semester of high school. Kanugo vividly remembers the joy of being in her class. "I felt like I could be myself and I never really had a moment where I didn't want to go to that class… it was where I made my best friends too," Kanugo said. This feeling was shared by many of her students, as her classroom was an uplifting environment. She would greet her students with the same beaming smile and unapologetic enthusiasm everyday.
During her freshman year, Kanugo became sick and was in the hospital for an extended period of time. She remembers how Teri Sanders checked up on her frequently. "She'd offered to help me with things after school," Kanugo said. "She emailed me from time to time asking how I was doing, which made me feel like she really cared about me." 
Rachel Goldstein, sophomore, also had Teri Sanders as a teacher for her first semester of high school and believes her animated personality made her an impactful teacher. She would frequently crack jokes, walk around class at a brisk pace and talk about her obsession with fuzzy sweaters and socks. "She was funny and a little kooky and a fantastic listener," Goldstein said, "so committed to every single one of her students." 
Teri Sanders' constant and contagious positivity resonated with her students and she soon became the adviser of the NPHS ukulele club. A group of students arrived every Friday to B4 to play ukuleles, sing songs and have conversations with her. Although the club was small, Teri Sanders was a very active adviser, constantly encouraging students and spreading her love of music. On a lucky occasion, students would be able to catch her jamming out with the students herself.
Vanessa da Kroob, sophomore, got to know Teri Sanders both as a student and as a member of the ukulele club. She saw Teri Sanders as not only a teacher, but as a friend and someone who could give her advice, whether it be about the next English assignment or managing high school in general. "She would always start a conversation with me and I always felt I could go and talk to her about anything… you could tell she cared about how you were doing," da Kroob said. 
An aspect of Teri Sanders' class that many of her students enjoyed were the creative assignments that she came up with. An example of this was the "walking in someone else's shoes" project inspired by "To Kill a Mockingbird." This assignment was created in order to understand the perspectives of different people, and was a favorite of students and the English department. Although most students hate being assigned work, Teri Sanders made it worth their while. "Mrs. Sanders always introduced an element of customizability with her assignments," Goldstein said. "This made her teaching effective, but also enjoyable."
Students were shocked when they heard that Teri Sanders had passed away. "I thought she was always going to get better and just come back and be, you know, the Mrs. Sanders that everybody knows," Kanugo said. 
However, her passing has made her students remember the impact that she has made on them. They believe that Teri Sanders established a strong legacy in her time at NPHS. "Mrs. Sanders will be remembered for her unabashed dedication, both to her students' well-being and their success in the classroom. Any person who had her will remember her warmth and understanding," Goldstein said.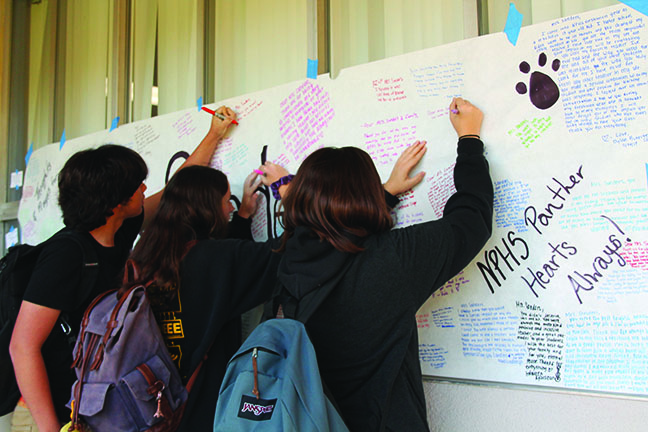 Her friendship
Empathetic, real, funny, passionate, strong; these are the words that her friends used to describe her and many more. She was a supporter, a listener, a role model, a mentor and a good friend to many of the teachers at NPHS. 
Teri Sanders' classroom was a safe haven for feelings to be shared and ideas to be exchanged. Alana Bond, English teacher, was one of the many frequent visitors to her classroom. "Teri Sanders was invariably in her classroom at the crack of dawn, as many of you know, and I found myself drawn to her room in the mornings where we have little pow-wows almost every day before second period began," Bond said. 
Both transferring to NPHS in 2011, Bond and Teri Sanders immediately became close friends as they were both trying to get familiar with the "Newbury Park ways." Soon, they became even closer when they were both given the opportunity to teach English 9H and English 11 CP. 
Bond was inspired by the way Teri Sanders would take on the role as a teacher and how she would build close relationships with her students. "I think so many kids came out of her class with friendships that they didn't have before that, more so than in any other class… it's something that I strive towards because of her," Bond said. 
Teri Sanders' classroom was always filled with positive energy stemming from her passion for teaching and love of literature. Bond recalls a time when she walked into Teri Sanders' lecture on "The Catcher and the Rye" and listened for four minutes until Teri Sanders finally noticed she was in the room. "She was just really good at remembering her purpose here. Telling me and others you've got to block out all the noise and just close your door and focus on your kids because they're the ones that are counting on you. I always felt that way, but I remind myself of it even more because of how strongly she felt about it."
However, Bond's strongest impression of Teri Sanders is her empathy. During her time at NPHS, Teri Sanders left for a couple of years to teach at Conejo Valley High School. "I was sad to be without my friend but in awe that she was seeking to reach some of the most challenging students in the district," Bond said. 
Teri Sanders came back to NPHS to take the place of Darrin Carr, an English teacher who passed away on Dec.30, 2016. "I think it takes someone with great sensitivity and empathy to thrive in that situation and to be able to relate to the students who are getting over the trauma of losing their previous teacher," Bond said. "I just can't think of anyone else that was more perfect for such a tragic situation."
Bond described Teri Sanders as "a warrior" in her speech delivered at the memorial. During Teri's battle with stomach cancer, Bond would visit and go on walks with her. Unlike how most people would describe their situation, "she just said this is what it is and this is where it is headed. We're just gonna fight this with everything that we've got now."
Christine Hodson, a fellow English teacher, was close friends with Teri Sanders, and Hodson's son, "was lucky enough to be one of Teri Sanders students."
Hodson mentioned how she and Teri Sanders, "were birds of the same feather" and that their relationship "immediately went to friendship…having her as a friend… we felt more like sisters to each other."
Hodson took over Teri's classes when she took her medical leave of absence in the second semester of last year. "I felt close to her by getting to know her students and talking to her about them. And she, she missed all of you. And she loved all of you. And she said that she just won the lottery that year with those students," Hodson said.
When reminiscing about the legacy of Teri Sanders, Hodson said, "The first word that pops into my head when I think of Teri Sanders and I think of what she's remembered for is "light" because there is an energy of lightness that radiated from her."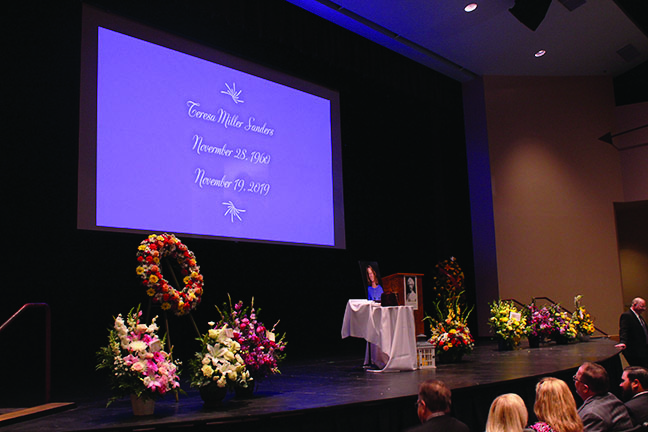 Her story
Teri Sanders lived a life full of challenge and adventure. Her open personality would always make her stand out wherever you saw her. She enjoyed trying new things like skydiving, sports, the color purple and fuzzy socks. One of her favorite books was "The Glass Castle."  Her jokes were genuine and funny, always making you laugh, and they always included a twinkle in her eye. When she talked to you, you knew she was genuinely listening. And she told the most wonderful stories about her family, who were her entire world. 
Teri Sanders never failed to provide support and spread laughter to those who needed it. Scott Miller, Teri Sanders' brother, recalls a photo album Teri Sanders made for her parents in celebration of their birthday which she themed "Still sexy at sixty." Inside were "letters and notes and pictures from all of their friends over their life, and each of us kids and so many people in our parents' lives." 
Mike Sanders, Teri Sanders' husband, shared the same sentiment. "Family was most important to her, never forgetting a birthday, anniversary, always making calls and sending cards," he said.
Michael Sanders, their son, was his mother's everything and she supported him with everything she had.  Mike Sanders said there was "never a moment she didn't love, worry, care about, and make plans for her baby. It was always the very best for her Michael and nothing would keep her from making that happen."
During Teri Sanders' memorial, Mike Sanders told the story of when Teri Sanders "was looking for a preschool, long before one was a necessity. One day she came home in tears because she had visited a place where she couldn't imagine Michael being in that place." 
"Teri is and will always be my world. She made me better in every way possible," Mike Sanders said. "Teri taught me what it felt like to be loved."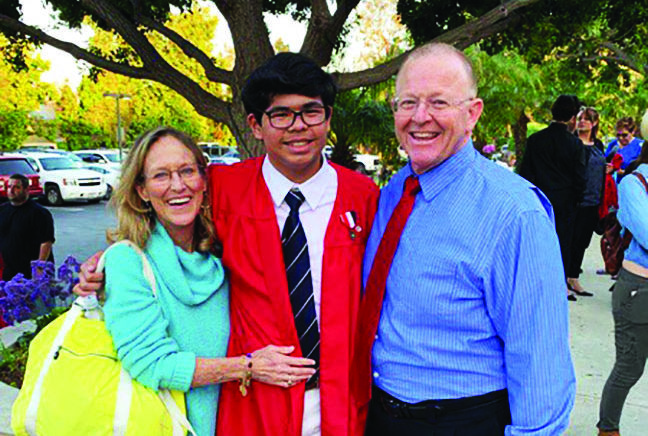 Our dedication
Mrs. Sanders,
You were the first English teacher we had at NPHS. We entered your class as shy, inexperienced freshman and left as stronger writers, speakers and thinkers. You gave all of us a love for English and a passion for discussion. You wanted everyone to be treated equally and with respect, and you instilled the quality of tolerance in all of your students. Whether it was through the books you taught or your own life stories, you reminded us that everyone is human and deserves to be treated accordingly. You encouraged us to discover and reach our full potential. Thank you for your welcoming smile and radiant personality; walking into your class immediately made our day better. Thank you for going above and beyond in preparing us for future classes and life. Whenever we would feel bad after a rough second period, you were the first person to make us feel grateful for being here at school with your caring words and joyful smile. We will always remember your loving interjections during our presentations like, "I love you" when we did something well. You could see her passion for teaching radiate from her as she would inform us of the deeper significance of John Steinbeck's Of Mice and Men.  You made us confident, you are the one who made us who we are. Thank you for encouraging us to be kind and to fight for what we believe in. Thank you for blessing us with your wisdom and silly personality. You are why we are writing for the Prowler.
Thank you,
Manas, Jessica, Carter