In the moment: L.A. Lights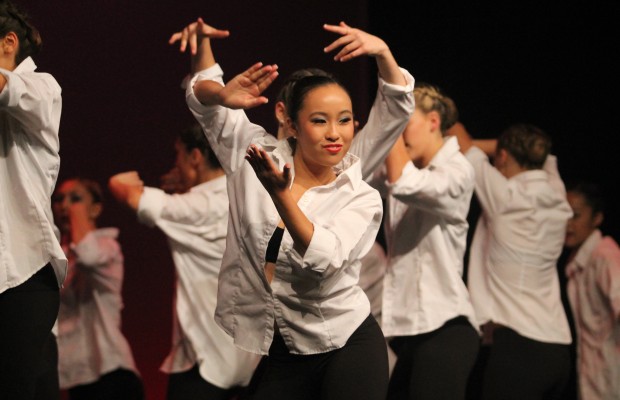 Phones are silenced. The room goes black except for one spotlight on the center of the stage. The audience waits quietly until the dance team flies out in their sparkling black corsets, ready for the first dance of the L.A. Lights Winter Concert.
The school's own dance team, period 2 and 3 beginning dance classes as well as the period 3 dance class, and IB world dance students took to the stage for 4 performances between Dec. 11 and 13, accompanied by dancers from the Thousand Oaks High School dance team, Thrive Dance Center, Aspire Dance Studio, Dance Alliance, and Bobby's School of Performing Arts. For two hours, dancers graced the stage with their mastered routines, captivated the audience, and earned loud applause and whistles from the crowd.
At each show, the NPHS dance team had seven group performances and four solos. The Period 2 Beginning Dance class performed three times throughout the night, and Period 3 four times. Period 2 Dance Class took the stage once and IB World Dance Students twice.
"We've been working on each (dance) one week at a time since August," said Emily Henderson, junior and NPHS dance team member. "We had to clean the dances a lot and then run them a bunch of times."
Even for members of the beginning dance class, the Winter Concert was a top priority. "We have been preparing for the concert since a couple weeks into the school year. As soon as I got into the class, I could already tell that (the) Winter Concert was really important," said Victoria Pacheco, sophomore, who joined beginning dance class this year. "We knew that we just had to get it right."
While all the practices and rehearsals take hard work, "hanging out with friends and just letting go" makes the training more enjoyable, according to Pacheco. "Once you let yourself go and stop being scared about letting everyone see you, it becomes a lot more fun."
On opening night of the concert, Pacheco felt that "the nerves got to the class a little, but kept it together …  however, once we got comfortable on stage, we were able to enjoy ourselves in the moment."
At the end of the show, all the participants of the concert danced together in the finale, resulting in an eruption of claps and cheers. "The audience was really excited for us," Pacheco said. "They just enjoyed seeing us up there, having fun."