John McCain has left behind a memorable legacy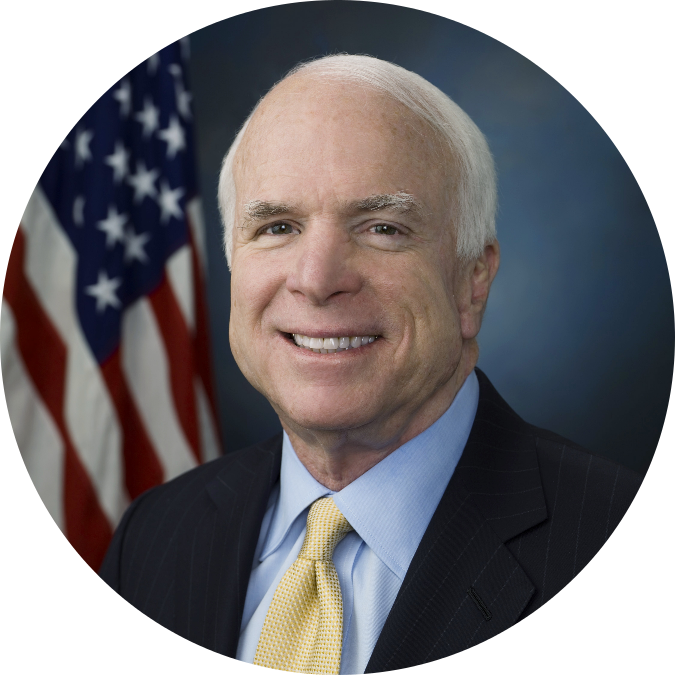 When John McCain passed away on the afternoon of Aug. 25, 2018, there was a public outpour of praise towards his life, career and legacy. Former president Barack Obama tweeted, "Few of us have been tested the way John once was, or required to show the kind of courage that he did. But all of us can aspire to the courage to put the greater good above our own." He has been called a fearless veteran, political revolutionary, but most of all, an American hero. In today's America, it is imperative that we cherish the life of McCain and honor the ideals that he imparted on this country.
Childhood and Education
John Sidney McCain III was born on Aug. 29, 1936, at Coco Solo Naval Air Station in the Panama Canal Zone. His birthplace says a lot about his early life, which was dedicated to preparing for and serving in the US military. The McCain family name held prestige in the force, as both John's father and grandfather served as four star admirals, the first father and son to do so. McCain did not have a stable childhood, often moving from place to place to accommodate his father's service. In 1954, after graduating from Episcopal High School in Alexandria, Virginia, McCain entered the United States Naval Academy in Annapolis, Maryland.
Coming into the Naval Academy, there were high expectations for McCain, following the footsteps of his father and grandfather. However, these expectations were crushed by McCain's behavior and performance. In the academy, McCain was known for not obeying the rules and coming in contact with higher ranking personnel. He was described as "cocky" and "combative" by his peers, always carrying around a quick temper and firm beliefs. Most notably was the fact that McCain graduated with a deplorable rank: fifth from the bottom of his class. However, this did not stop McCain from pursuing his dreams of serving in the military, and by 1960, he graduated flight school and was ready to serve in the Vietnam War.
Becoming a War Hero
"War is wretched beyond description, and only a fool or a fraud could sentimentalize its cruel reality." – John McCain
The Vietnam War was characterized as a time of great conflict and danger for those serving in the military, and for John McCain, this was no exception. He had to stay away from his new wife, Carol Shepp, and he served as the pilot for an attack plane, performing low altitude bombing runs over North Vietnam. Although the war was very taxing for McCain, the year 1967 proved to be incredibly difficult. On July 29, 1967, McCain escaped death when his A-4 Skyhawk plane was accidentally shot by a missile aboard the USS Forrestal, with the resulting explosions killing 134 others. However, on Oct. 26, 1967, McCain wasn't so lucky. During a bombing run over the North Vietnamese capital of Hanoi, McCain's plane was shot down, leaving McCain with both arms and one leg broken. He was caught by the northern Vietnamese and taken to a prison camp, where he stayed for 5 and a half years as a prisoner of war. Those years were filled with endless beatings, torture, and solitary confinement. His health took a severe hit both physically and psychologically, as his weight fell to 105 pounds and he attempted suicide twice. Since he had the McCain family name, North Vietnam sent him several offers to bail him out of jail early for "propaganda purposes", but McCain refused, insisting that he would wait until every prisoner of war who came before him was freed. Finally, on March 14, 1973, McCain was freed, along with hundreds of other prisoners. Reflecting back on this dark period, McCain stated, "It wasn't until I had lost America for a time that I realized how much I loved her."
Entering Politics
"America's greatest strength has always been its hopeful vision of human progress." – John McCain
Due to the physical and psychological trauma that McCain sustained from Vietnam, he decided not to advance in the army and instead entered politics. He was assigned the Navy's liaison to the US Senate in 1976, thus beginning his long career as a politician. After divorcing his first wife due to infidelities, McCain married again to Cindy Hensley, and the couple then moved to Phoenix, Arizona. Hensley's father was in charge of the third largest Anheuser-Busch beer distribution business in the country, providing McCain with finances and the necessary exposure to public relations. With these new skills, McCain decided to run for the House of Representatives, winning the election on Nov. 2, 1982. Serving two terms as a representative of Arizona, McCain quickly established himself as a conservative politician who wasn't afraid to question Republican values. Several times, McCain went against the conservative Reagan administration with his views on war, demanding that US marines be taken out of Lebanon in 1983. The quick temper and firm beliefs that he had in the military were embedded into his personality, and he became known as the "maverick". From his success as a representative, McCain won the Arizona senate election in 1986 and was re-elected three times after that. In 2000, however, McCain decided to look beyond the Senate and ran for president. Running for the Republican party, he had to contend with George W. Bush for the nomination. Although he was successful with victories in some states, he ended up suspending his campaign indefinitely, leading Bush to win the nomination and presidency. McCain's most prominent presidential race, however, was in 2008, against Barack Obama.
With Bush not being able to run anymore, McCain secured the Republican party nomination. His campaign was based on "straight talk" and being completely honest with the American people, something that voters from both parties appreciated. However, his campaign lacked finances and a clear political base, along with the fact that Bush's approval rating was at its lowest in 2008. Although his party was not at its strongest, McCain never attacked Obama or treated him differently because of his race. During a rally, when McCain was asked if Obama was an Arab, he replied calmly and with character, saying, "No ma'am. He's a decent family man, a citizen that I just happen to have disagreements with on fundamental issues, and that's what this campaign is all about." Although McCain lost the election in November, the respect and morality that he showcased as a competitor was admirable for many.
Continuing to serve on the US senate, McCain was diagnosed with glioblastoma in July of 2017, a type of brain tumor that cannot be cured. McCain's doctors stated that patients with glioblastoma typically lived up to 16 months after diagnosis, as the tumor rapidly grows within the brain. However, even with this knowledge, McCain continued to participate in GOP meetings, showing his unrelenting devotion to America. However, in Aug. of 2018, McCain's family announced that he will no longer be receiving treatment for his cancer. Just a couple days later on Aug. 25, John McCain passed away at the age of 81.
Honoring the Ideals and Legacy of John McCain
"Farewell, fellow Americans. God bless you, and God bless America." – John McCain
John McCain was not the perfect man. He graduated fifth from the bottom of his class, divorced his first wife because of his infidelities and often challenged those who had higher authority than him. But above all, John McCain was an American patriot through and through. His love for his country was unrelenting, and he took it upon himself to voice his opinions to serve his people. The qualities that McCain exhibited throughout his life in order to make change for our country. We must show courage, as he did when he served in the Vietnam war as a bomber pilot. We must show loyalty, as he did when he did not give in to the torture and pain he endured as a prisoner of war. We must be outspoken, as he was in questioning conservative values as a Republican himself. Today, more than ever, we must honor and continue the fight that he started, one that includes and benefits the American population. As he stated, "We are Americans first, Americans last, Americans always."