Kylie and Travis make an appearance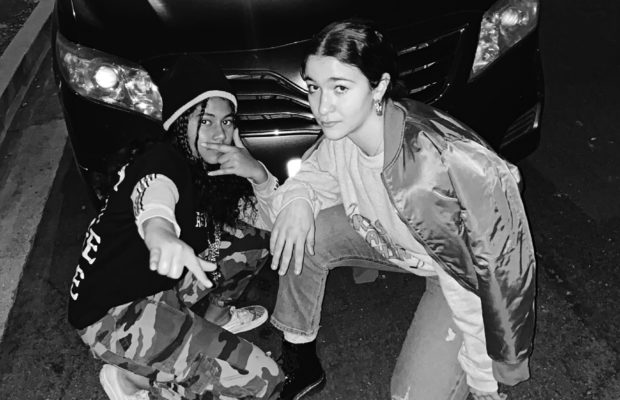 Prepare the paparazzi. Wait, false alarm. It is not Travis Scott and Kylie Jenner; it is actually seniors Pranati Denduluri and Aminah Ghanem. For Halloween, Denduluri and Ghanem are going to sport the Astro World apparel and overdrawn lips as they emulate the styles of the famous duo, Travis and Kylie.
"Can't Say featuring Don Toliver. Look him up. Oh my god. That song is so good," Denduluri said. Travis Scott is a rap artist who has an on again off again relationship with Kylie Jenner. When Denduluri expressed her interest in dressing as Travis for Halloween, her friend, Ghanem, agreed to join her by dressing up as Kylie Jenner.
"This is a struggle because they just broke up, like, come on get back together so our costume will work!" Denduluri said. For Ghanem's Kylie Jenner costume, she wore a windbreaker, bulky black shoes, an oversized shirt, and hoop earrings.
To top off her costume, Ghanem said, "I am going to hold Stormi. I'm going to get a fake baby." Stormi Webster is Kylie Jenner's 1-year-old who she had with Travis Scott.
"I have an Astro World shirt that I am going to wear, and then army green sweats, then I have shoes with the album on them, drawn on," Denduluri said. "And maybe grills or chains, but we are going all out."
Archana Mohandas, senior, painted Travis Scott's album cover for Astro World on Denduluri's shoes for the costume.
"On my birthday we were doing DIY's and stuff and we bought clothes from the thrift store," Mohandas said. "She just had these old Vans and… she wanted me to make her shoes." Denduluri had been planning to dress as Travis Scott since Mohandas' birthday party in June.
"(Denduluri) wants to trick or treat but that's so dumb. We're in 12th grade," Ghanem said. In response, Denduluri said, "You know what? Candy is candy, okay?" Instead of trick or treating, their friend group had other plans.
"We are planning on going to Reign of Terror and then hang out at my house after and watch scary movies," Denduluri said. Despite the breakout of fires, Denduluri and Ghanem still went through with their original plans for Halloween.
"So they weren't really surprised because I embody (Travis Scott) everyday. It's a lifestyle. Embody it everyday. So, someone's gotta dress up as Travis Scott, right?" Denduluri said, referring to her friends. She has urged Ghanem to watch Travis Scott's documentary "Look Mom I Can Fly" on Netflix.
"It was terrible," Ghanem said about the film much to Denduluri's dismay. According to IMDB, the documentary is rated six and three tenths out of ten from 2,273 contributions to the rating.
"(Travis Scott) is not just an artist. He is a lifestyle," Denduluri said. Ghanem's final sentiment was as follows: "Trick or treat."