LA mourns the loss of Lakers Legend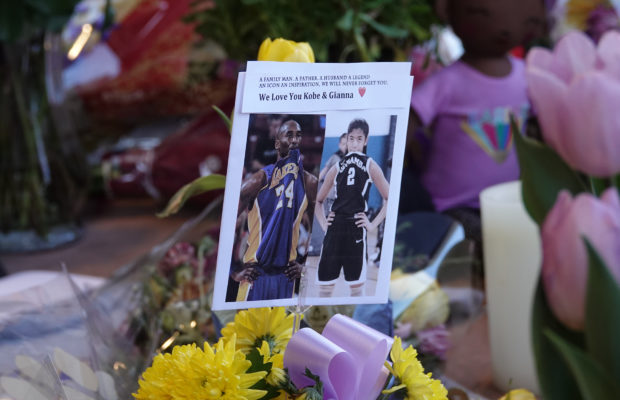 For the past few weeks, the world has been mourning the loss of an icon, an idol to many, a husband, and most of all, a father. On the morning of Sunday, January 26, Kobe Bean Bryant and his daughter, Gigi, passed away in a helicopter crash along with seven other passengers on board. Among these were Payton and Sarah Chester, Christina Mauser, Alyssa Altobelli, Keri Altobelli and Ara Zabayan. 
The immediate cause of the crash is still unknown, but investigators speculate that the foggy conditions played a role. The helicopter was reportedly descending fast before it crashed, some think it narrowly missed clearing the top of the hill. 
Regardless of the causes of his death, however, Bryant's life has had a profound impact on many people all over the world. 
"Kobe was for sure the best part of basketball and growing up near LA for me. He was the reason that I started playing basketball and is someone who I will always look up to and remember, just for his mamba mentality and what he represented on and off the court," said Adi Chattopadhyay, freshman.
Memorials sprung up everywhere shortly after news of Bryant's death spread. Outside Mamba Sports Academy, the destination of the helicopter that day, fans left flowers, jerseys, basketballs and photos to pay their respects. 
"Kobe was an inspiration to me because growing up in LA and watching him play was my greatest childhood memory. His Mamba Mentality shapes many athletes into what they are today," said Andrew Stubblefield, junior. 
For Stubblefield and many others, Bryant was the reason they picked up a basketball. Watching him dance down the court, spin around for his signature fade-aways and make those last second clutch shots was mesmerizing. 
After his retirement in 2016, Kobe went on to even greater things. In 2018, he won an Oscar for Best Animated Short Film for "Dear Basketball". It was an animation based off a letter Bryant had written in his last season saying good-bye to basketball. 
He travelled by helicopter often, going to and from Mamba Sports Academy, where he coached Gigi's basketball team. Payton Chester and Alyssa Altobelli played for the same team. At the team's next game, the players left their jerseys on the bench with flowers to remember their friends. 
Bryant also coached multiple NBA players at the sports academy, all of which were deeply impacted by his passing. In the succeeding weeks, each NBA team started their games with an 8 second violation or a 24 second violation, commemorating both of his jersey numbers. Some players and teams even retired his numbers, ensuring that his memory lives on. 
"He meant everything not only to me but to all of LA… One thing I won't forget about Kobe is that he was the same competitor off the court in his retired years as he was on the court," said Vivek Kanchi, senior.