Latinos Unidos club reflects during Hispanic History Month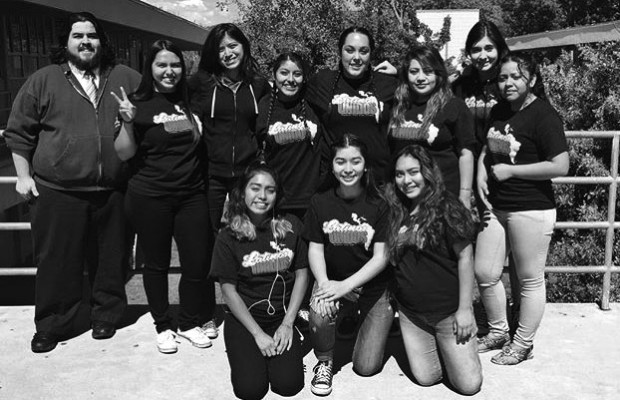 National Hispanic Heritage Month is dedicated to celebrating the heritage and culture of the Hispanic people from Sept. 15 until Oct. 15.
The Latinos Unidos Club is made up of students of all ethnicities who meet during lunch on Fridays to talk about Hispanic culture and what they can do to improve the community in Ventura County.
Groceries are donated by local stores and families to the organization and our group goes to help them sort it and bag it for each family. Then while the parents are in an informative meeting that varies from learning their rights to learning the process of immigration papers and procedures, the club helps care for their children. At the end of the presentation, the club helps distribute the bags to each family. They also donate gifts during the holidays.
"In October, we are going to start going to Oxnard monthly to help the Mixteco Community [an immigrant population that is resides in Oxnard]. We bag food and babysit their children while their parents are at meetings," Veronica Gonzalez, senior and vice president, said.
Along with planning community service, the Latinos Unidos Club spends their time reflecting on their own culture.
"When I was growing up, I was in a very white neighborhood, so I wasn't very involved in my culture until high school. I actually saw how beautiful and different we are and how we are integrated into this society," Esmeralda Gonzalez, senior and club president, said.
To these students, Hispanic Heritage Month gives everyone the opportunity to think about why we celebrate Hispanic citizens and their history.
"I think it's important to celebrate Hispanic History Month because it teaches everyone exactly how we were before the Europeans populated this part of the world. We learn about how little we had and we were still able to communicate with each other. It educates everyone on how we actually act and who we are as a culture," Veronica said.
During this month, Michelle Calveron, a junior and a member of the club, learns more about her history and who she is as a Hispanic person in society. "I make myself more comfortable with my culture. I am more proud to say I'm hispanic. I'm learning about my culture and I'm proud to speak of my traditions," she said.
In addition, Daisy Calveron, senior, explained how "[Hispanic History Month] let's you be proud of who you are and who your parents are."
The girls all take pride in their hispanic culture and its traditions. Some of these include their styles of clothing, dancing, and specific event attire which make them feel more connected to who they are.
"Where my parents are from, they dance this dance called jarana and the girls wear these long dresses with flowers, and it's all handmade. It's a tradition. Each culture has their own celebrations and their own style," Daisy said.
Esmeralda feels that Hispanic Heritage Month has impacted her and her family in an empowering, unique way.
"To me, it's like seeing how we've grown as Latinos, how influential we are in today's society and how we can actually make a change in the world," Esmeralda said.