Looking through a new lens: Riley Taylor finds his muse behind the camera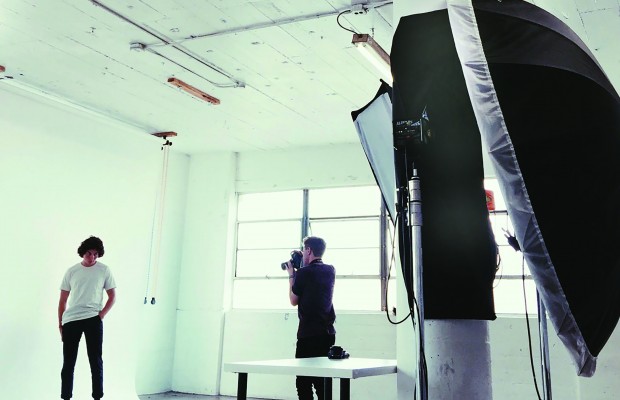 All lights are dim in the studio except for one small yellow spotlight on a girl. She exchanges a few nervous laughs but becomes more comfortable as the photographer cracks a few jokes, reassuring and comforting her. For about twenty minutes, she poses, trying to perfect her expressions and posture. However, the real spotlight should be on the person who works his magic behind the camera lens and behind the scenes–senior and photographer Riley Taylor.
After taking the elective photography class during sophomore year, Riley grew his interest in the arts and began to express his own creative style through his photos. Riley has continued his photography journey through his own signature photo style and has worked with many well-known models and YouTubers to produce striking photographs and eye-catching short films. His work has slowly but surely made its way out to the public via social media.
"I'm really proud of him right now because he is definitely going to a new part of his photography career and he's making a big step," Hannah Bashforth, senior, said.
Riley's best friends, Bashforth and Sarah Whitwell, senior, whom he has known since sophomore year and kindergarten, respectively, allow Riley to practice his photography skills on them, using different techniques, makeup, wardrobes and editing styles. Riley creates different images, each one more stunning than the previous one, which fill his Instagram profile, allowing many of his friends and other well-known YouTubers to contact him for photo shoots and collaborations. His overall love for photography is inarguably discernable during his shoots and editing, as he makes his models feel comfortable during the process and happy with the outcome.
"When we see him shooting other people, he just makes them laugh and makes them feel comfortable. Even if they don't know him, you would think that they are friends," Whitwell said.
Many people agree that Riley's photography style is impressive and recognizable from anywhere.
Riley's younger sister, Kennidy Taylor, sophomore, adds, "I think his photos are really cool and he has a really unique style that you can tell when it's his photos."
His creative style was found first while taking Photography 1&2 where eventually, his creativity and style began to blossom.
"I am a really creative person and I have trouble kind of getting that out and expressing that, so I feel like (photography) is a mode of my creative expression," Riley said.
Over this summer, Riley purchased a new camera, the next step towards furthering his career in photography.
"It's really easy to get caught up in what expensive equipment you have so at first it is hard to start out with just a basic camera," Riley said. "But the most important thing is to have a drive and sources of inspiration for your work. That's what will make your work better, not having a nicer camera. That comes later."
He receives inspiration from many of the movies and films he watches, including songs and different forms of art. Although espousing and emulating many techniques from his favorite medias, many of his stylistic photos reveal creative and original looks that are distinctive in comparison with others.
"The creativity and the freedom of (photography) allows you to express your ideas and your opinions on different topics," Riley said.
Although enjoying the creative aspect of this art form, there are many difficult parts one must overcome to do well and efficiently take photographs.
"There is a lot of technical stuff that goes into it, like all the settings on the camera, editing, which takes so much time," Riley said. "It just a hard process to get started, but once you're there, it is easier."
Whitwell adds to his editing style, "It isn't that he photoshops, just watching him, he clicks on all these different buttons and it looks really cool … He just got better and better at editing and taking photos. He knows how to capture it so perfectly."
Riley's editing style is very popular among many of his friends, models and supporters, but despite this, he is "trying to develop more of an editorial-like darker style."
"I would say right now, it's more bright or colorful, but I definitely want to go in a more edgy, dark kind of way," Riley said.
Recently, Riley attended the "Dior Launch Party" for their new makeup line with well-known YouTuber and friend Griffin Arnlund. However, despite attending high profile events and photographing popular models, Riley does not particularly seek fame and attention, but rather feels like an ordinary teenager pursuing his aspirations.
"I don't feel famous in any way. I'm glad people like my work and I am able to express myself and have the ability to create art with such great support, but I would not consider myself famous at all," Riley said.
Kennidy noticed her brother's greater involvement with more well-known figures and the steadily increasing popularity of his photographs.
"I thought it was really cool how he found an interest in something," Kennidy said. "He started loving it more and became more interested in doing it."
Riley plans to continue his photography work in college and in the future by expanding his creativity into different fields of photography as well. As a senior, he has applied to various photography programs and already received numerous acceptances.
"For career-wise, I do want to do something either with film of photography, something creative. Either an editorial fashion photographer or film director, something like that," Riley said.