Making the cut – College Edition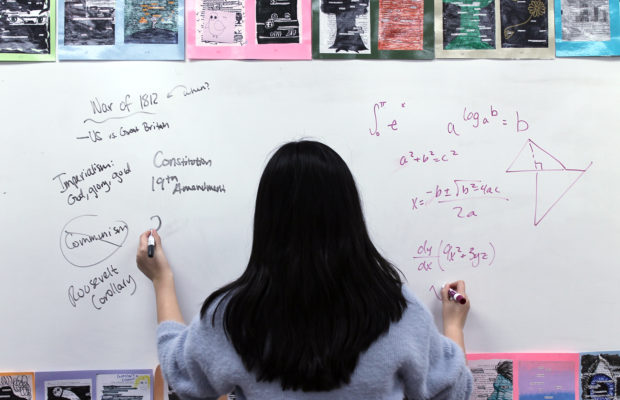 The impact of education 
Let's play a game. In a short 1,460 days, you must become captain of a sports team, president of eight clubs and take every AP and IB class on campus, all while getting straight A's and a perfect score on the SAT. That's just the beginning. Get ready to spend the next four years of your life attending an Ivy League college, not to mention all the while balancing your flawless social life. Easy, right? Wrong. Dangerously wrong.
As students get closer and closer to graduation, high school stress exponentially increases. Those without a clear plan for their future are scrambling to choose a career to put on their college applications; and those who are more prepared are using 20 out of the 24 hours in the day to make themselves become exceptional in every way. 
One contributing factor to this stress is the idea that the SAT/ACT will make or break the acceptance of all college applications. This fear of facing the possibility of failure through a test score is horrifying, and many students struggle with the idea of a loss of intellect and with it identity all because of a low test score. 
Because of this pressure, Katie Wu, junior, has been preparing for the SAT and ACT since her freshman year. She joined a SAT boot camp in the summer of her first year of high school and has participated in an ACT bootcamp every winter break. "I think there's just so much pressure on students to get an amazing score on the ACT or the SAT and have a perfect GPA while maintaining their social lives and all their sports activities, " Wu said. 
The pressure on students to become the ideal, well-rounded student to get into elite colleges has weighed more and more on students, despite the tolls this can take on other aspects of life. "Students are having to sacrifice their social life and very often their health and sleep, in order to conform to this expectation of what a student needs to be in order to get into college," Cynthia Gao, a junior and full IB candidate, said. 
The courses today's high school students choose to take for their years in secondary school often feel like the determining factor of their future.  Because of this, when it comes time to choose courses, many students opt to take International Baccalaureate (IB) classes, Advanced Placement (AP) classes or a combination of the two. IB is a two-year program regarded as one of the most rigorous academic pathways in the world, with an emphasis on preparing students for college through critical thinking and analysis. Made to feel that these curriculums are a necessity, the pressure on these students only grows more intense as they ascend into higher grade levels.
The extreme lengths that are believed to help ensure a successful future often mean students must sacrifice what they truly enjoy. Even though they may not find the program interesting, students will feel compelled to participate solely because of the weight colleges put on them. "I think many students tailor their academics and extracurriculars to what they believe colleges want them to do, rather than what they actually want to do," Gao said. 
With a similar narrative, Justin Lagala, junior, also pushes himself with the challenge of many rigorous courses. "I feel like I'd been doing so many more things that I would enjoy doing if it wasn't for college," Lagala said. "I enjoy the things I'm doing now, but it's not exactly the best I could be doing. The classes I'm taking, they're interesting, but they are really stressful." Lagala said. 
Nearing the end of her senior year, Pranati Denduluri, senior, has put in hundreds of hours towards achieving her aspirations for college, through SAT prep classes and a range of extracurricular activities. Like the others, Denduluri recognizes the strain that college prep puts on students, especially as the deadline rapidly approaches. "It's too much pressure at once. Everyone tends to start looking for internships and extracurriculars and awards in junior year as they realize they have to do something to get into college," Denduluri said.
Despite the effort that these students put in, it can often feel like there's no payoff. "I think the more stressful part is waiting and knowing that even after putting so much time and effort into writing a particular essay, I can still be deferred or waitlisted or rejected from the college," Denduluri said. 
Students shoot for athletic scholarships 
Along with academics, clubs, friends and family, athletics are yet another stressor in high school students seeking entrance into college.
Luke Taggart, sophomore on the JV football team, has been playing for five years and says that his experience so far has helped him learn to manage his time. "Football practice goes long so especially the first half of the year it is strenuous on your academic needs. The coaches always tell you school first and you kind of learn how to prioritize things," Taggart said. 
One benefit of sports to high school students is giving them the opportunity to apply for an athletic scholarship. Many teenagers plan on receiving athletic scholarships from their freshman year or earlier. "If I get a scholarship, even if it's a small one, to play football in college, that would be a great opportunity for me." Taggart said.
Daniela Guyette, a sophomore on the girls' varsity lacrosse team, is a student who is also heavily considering an athletic scholarship for her plan after high school. "Lacrosse is the main way I'm looking to get into college, besides that it would be a lot harder for me to get into the college I want," Guyette said. 
In Addition to athletic life, those who play sports must also focus on their academics, especially if they want to pursue college after high school, "I'm really just trying to push myself in these harder classes so that I can better my chances of getting into the college I want to." Guyette said.
Athletic and sports participation in high school often impacts student's searches for college. Jace Aschbrenner, senior, participates in track and cross country, leading to an athletic scholarship as a major factor in his college choice. "Cross country and track, it's kind of a big door opener for me and allowed me to, first off have a little bit more security in the college decision making process," Aschbrenner said. "And also gave me more opportunities to make it more financially viable."
However, the desire for athletic scholarships play a lesser role for some students than others. Shaelyn Rashoff, senior, has been playing soccer competitively for ten years, and mainly chose her college based on academics. "The [athletic] scholarships didn't really have a huge impact because, for me, it was where I saw myself, and where I thought my future would be the most beneficial," Rashoff said. 
In addition to scholarships and guidance, sports are beneficial through reinforcing the importance of a student athlete's education. "The academic support through athletics is incredible, and I think that's something that's really overlooked in the college process, how your athletic team will support you through college," Aschbrenner said.
Although athletes in high school do have the advantage to seek athletic scholarships and college guidance, it means that they must work hard and learn to manage their time in high school to achieve it. "I don't have a lot of time," Guyette said. "It's a lot but I think it's worth it in the end." 
Students and counselors collaborate 
When it comes to college, the counselors have the resources and wisdom to help. Tina Coleman, counselor, provides guidance to students on a daily basis. 
Naviance, a tool used frequently by counselors, is a website designed to help plan a student's post-secondary school plan and connect with educators. "There are a lot of different interest surveys, career planning tools, and resources on Naviance that can help them forge a path, and to meet with (the counselors), and definitely going over to the College and Career Office," Coleman said. 
"(Counselors) have mostly confirmed it, as a lot of my advice came from adults and they gave me a lot of the same advice, but in a refined way," Andrew Young, senior, said. He is attending Arizona State University next year as a finance major. 
Students change their plan for the future "from ninth grade to their senior year. Some of them have a path that they stay on and others will change, so it just varies," Coleman said. Despite the misconception that students should have a plan set in stone by the time they are freshmen in high school, plans are likely to change and there should not be a stigma around it.
"There is a whole lot of holistic reviews of students for college acceptance, especially at more competitive schools. Of course they are looking at your grades, your courses, the rigour of them, the test scores. They are also looking for involvement and leadership, and passion," Coleman said. Passion is reflected by activities that a student genuinely enjoys, meaning the events or extracurriculars will be most impressive if the student is a happy participant. 
"I think that for some students their interests and paths may be more of a vocational program, and I still consider it an education," Coleman said, "It may not be a university education, but it is still furthering their route, so I still think that there is something for everyone after high school." Alternate routes after college include entering the workforce right away, enrolling in a trade school and serving in the military. 
"My favorite piece of advice was just to hang in there and keep working at school. It's just nice to have some support," Young said. For any confusion, there is a simple solution.
"One of the hardest things I have seen students do is actually ask for help, whether it be in class, whether it be at home, whether it be in here," Coleman said. "Not only asking for help but understanding it is okay to ask for help. Take away the stigma of saying it's bad to ask for help."