Mandi Nishimori: Dancer, libero, traveller, winner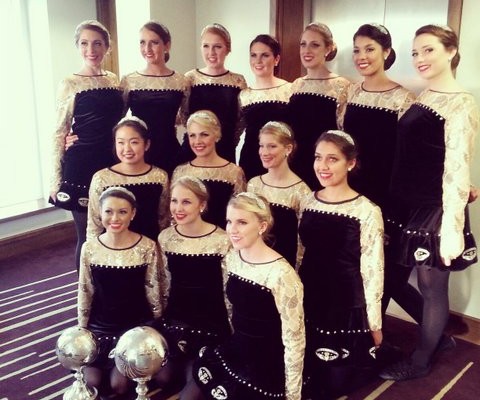 After her sister watched a video on river dancing, Mandi Nishimori, senior, signed up for an Irish dance class and has been competing since kindergarten. Freshman year, she would also begin playing volleyball. Nishimori now competes with the Varsity volleyball team, while also travelling (and winning) internationally with her Irish dance team.
Due to the time commitment required of both sports, Nishimori must make decisions between the two, especially when volleyball season starts.
"When volleyball season starts, I can't always make it to dance practice," Nishimori said, adding that this leads to "a lot of tears."
Despite the conflicts, Nishimori repeatedly cites determination not only as something that allows her to compete at such high levels, but also as advice to others who want to improve at their sports.
"You have to give it your all, all the time. You have to give that dedication to your sport," Nishimori said. "You also have to really love it. I don't think I would have danced all this time if I didn't actually like it, because it's pretty brutal, but really fun." Nishimori has overcome ankle injuries, which she said are hard to bounce back from. She also deals with stress right before dances.
"I don't like to think about my dance, because I know it by heart, but people get really annoyed at me because I'm jumping around," Nishimori said, describing her pre-dance routine. "Oh, and I have to retie my shoes a billion times."
Nishimori demonstrates dedication in Volleyball, playing club in off-season. She said that, during the season, "we have practice every day from five to seven, and there's gamedays on Tuesday and Thursday." In off-season, which runs the rest of the year, there are still more practices and weekend tournaments.
That dedication has also helped Nishimori win at four levels of competition in Irish Dance — Oireachtas (regionals), Nationals, All-Ireland, and Worlds. At Worlds, which she calls the Olympics of Irish Dancing, her team has won two World Irish Dancing Championships, in 2009 and 2013. She has competed in Ireland several times, as well as in Philadelphia, Boston, and London.
According to Nishimori, both volleyball and dancing are team sports. "Volleyball was really great to get into and to be part of the team," Nishimori said. Her varsity team members, seniors Natalie O'Sullivan and Morgan Ichimotl, agree that their team is a family. Nishimori's teammates not only mentioned her dedication, but also her positivity, humor, and energy.
"We really like our team," Ichimotl said. O'Sullivan listed memories shared with the team: dressing up for home games and their "Shabooya" pre-game cheer. However, O'Sullivan's favorite memories are: " (the) undefeated froshsoph team in freshman year, bus rides singing, and Senior Nights." Their favorite part of the Varsity volleyball team? "Just being with the girls," said Nishimori.
Nishimori also emphasizes the team aspect of Irish Dancing, and how much her coach, Maire O'Connell, and her team, mean to her. "I've placed eighth in the nation for my solos, I've won the regionals before, but I think my greatest achievement was when my team won Worlds," Nishimori said.
After years of training and competing, Nishimori offers what she has learned through putting time and effort into her passions: "You have to have commitment. I've been on a world champion team for three years and you have to be there for your team. My teacher also emphasizes "love, loyalty, friendship"–the claddagh symbol."