Marching Band prepares for upcoming season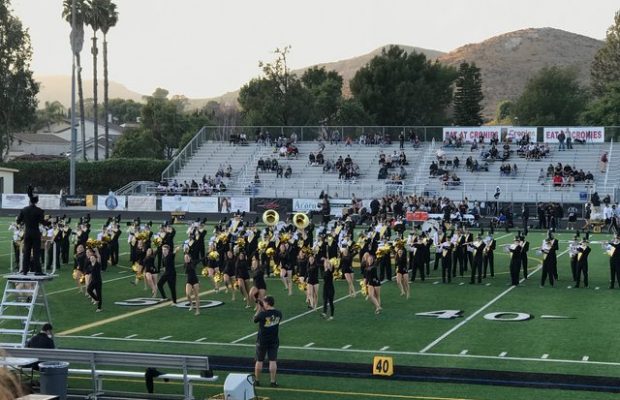 Tick. Tick. Tick. The steady cadence of the metronome conducts all the musicians in marching band as they practice to perfect their performance. Precision and sharp, on time transitions between formations is essential, but only comes with hours of dedication and a close bond between bandmates.
Marching band practices four times a week for two and a half hours each time in order to reach their goal of making it to the finals at the competition in their new league, Southern California School Band and Orchestra Association (SCSBOA).
"Last year we missed (finals) by a very small margin. Basically our goal everyday is to keep on adding to our movements and the show," Hufschmidt said.
They design one performance each year and have increased the difficulty this year. The performances are developed with a specific theme in mind, including props, song choice, choreography and the incorporation of color guard.
"Our show this year is called Ra and it's about the Egyptian sun god," Davis said.
"It's multiple songs put in one (performance)," Ehrhardt said. "Each movement is a different song with the same theme, but…a different style."
Students find themselves committing to this rigorous sport for reasons ranging from their social lives to preparing for the future.
"If you're more focused on college, then it looks great on college applications. If you want friends, we're all connected together each through different sections. If you just want something to do and something to be part of, that's what we do, that's what a lot of us are here for, because we want to be a part of something," Tannor Ehrhardt, junior and flautist, said.
One of the most challenging facets of marching band is "getting everyone to come together and actually be motivated to make it what everyone else knows it can be. It's hard to get…other people to feel the same desire and dedication that you do," Marli Davis, junior and French horn player, said.
Participants find that the social aspect of marching band is their favorite part, Chloe Budnik, junior and bass drummer, saying, "I met all of my friends through band."
"My favorite part about being in band is constantly knowing that no matter how bad or good you are, you're important, have friends and have a place to go. It's a good thing to be a part of because you're always welcome in the band room. You always have someone to talk to," Budnik said.