Mile by mile: Relay team races for an All American title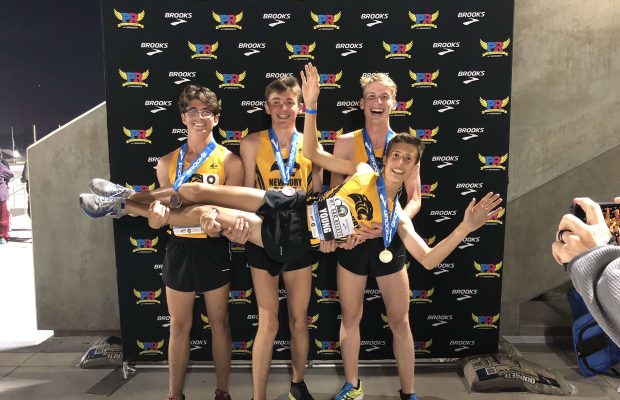 "You can feel the pressure and anticipation building. It's a high-stress, high-pressure environment," Ethan Ronk, junior, said. "Whenever I'm racing, I'm not thinking. I'm focused and I'm zoning on the race."
Ronk, Nate Garner, senior, Jace Aschbrenner, sophomore and Nico Young, sophomore, will be travelling to Greensboro, North Carolina for a 4×1600 relay on June 17 at the New Balance High School National Championship.
"We are going to be running a couple more invites before the nationals meet to make sure we're still trying to improve our times, make sure we're staying sharp," Garner said.
Training for the relay is not too different from training for an individual event, however an added element of teamwork increases the difficulty.
"We don't practice relays necessarily, but we do all our training together — we all work out together and we all run together," Ronk said. "We all work towards bettering ourselves together, and then whenever it comes to the race we run one-by-one, hand off to each other and we all know each other so well that it just really helps."
After injuries plaguing their previous track and cross country seasons, Aschbrenner and Young are even more appreciative of this opportunity to race.
"Basically I was injured almost every single season in cross country and track. I missed all of track season, so this season was really good for me to be able to run," Young said.
Qualifying for the meet with the eighth fastest time in the nation, the team has a specific goal in mind.
"If things go well, we will be aiming for top six, which will get us an All American title, which is essentially just the best people in America," Garner said. "If all of us are running to our potential, we can be fighting for that first place spot."
Aside from the team objective, they also have a personal aim.
"This one's a four by mile, so it's another second or two seconds onto each person's time over 1600, so I'm going for a 4:25," Aschbrenner said.
The team is confident in their preparation and ability to succeed at the meet.
"I think we train harder and smarter than most schools in the state and country," Sean Brosnan, head coach, said.
Not only will this meet be an impressive conclusion for the track season, but also for Garner's high school track career.
"When I'm not running, I just need that fix. It's like a drug and it makes it so great running with these guys. I'm glad that this will be the last race of my senior year in high school," Garner said. "I'll get to finish off in such a great event, on such a grand scale, with these top guys on my team that have meant so much to me."