Mock trial season comes to an end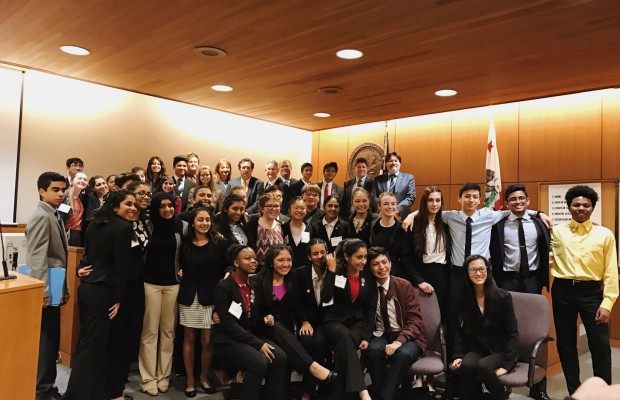 The Ventura County Courthouse bustled as 34 teams made their way through security and took their place in the jury room on the first floor. Among those 34 teams were two of Newbury Park's very own: Gold and Panther. The stress was palpable as Gold Prosecution and Panther Defense made their way to their respective courtrooms for round one.
Eesha Chattopadhyay, sophomore and Panther Prosecution attorney, was "super apprehensive and anxious" because "all the hard work we've put in over the past six months [was] leading up to this week of our lives."
The next day, Feb. 28, the teams returned for round three and four, which for many schools, would be their last trial of the year. For Newbury Park, both teams went in strong, and came out successful.
Jubal Rancourt, junior and Gold Defense witness, was "confident that our team would make it to semifinals, so by [round two], it was just a matter of performing well that weighed down on me."
The morning of Feb. 29, Peggy Walker, teacher adviser, awaited the call that would tell whether the teams made it to semifinals. During the first 10 minutes of third period, Walker sent out a text to every team member: "Congratulations! BOTH teams have made it to semifinals!" The mock trial kids all over the school bolted out of their classes to Walker's room. But now, the real competition had begun. Newbury Park High School students were pitted against each other as Panther Prosecution faced Gold Defense in round one of semifinals; whoever won would progress on to finals. All day long, mock trial students practiced, strategized and stressed for the upcoming competition.
"When we made it to semifinals, I was overwhelmed with relief that the work I've done this year was worth it," Chattopadhyay says.
After the trial ended, the teams awaited the results which would be projected in the hall of the courthouse. Gold Defense was placed in the winners' bracket against La Reina, meaning the team had qualified for finals. Panther Defense was up against Santa Susana Teal for their last trial of the year.
Sonia Patel, senior and Gold Prosecution attorney, reflected, "Making the Mock Trial Finals my senior year was honestly one of the best ways to end my high school mock trial career."
The next day was the final round where Gold Prosecution was facing Westlake Orange. Gold's final trial of the year was an astounding win.
The results were finalized on Mar. 6. Dayna Archer, junior, was awarded third place for Best Pretrial Defense Attorney and Alex Chow, senior, placed second place for Best Pretrial Prosecution Attorney. Ibrahim Syed, sophomore, placed third for Best Bailiff. Angela Swartz, junior, was awarded first place, qualifying for the state competition, for her writing piece as the Courtroom Journalist. The season was a success for both teams: Panther placed eighth and Gold placed third overall.
Patel says, "I definitely think that our hard work paid off– not only because we got third place, but also because I truly performed better than I ever have before. I felt very successful leaving the courtroom."
Chattopadhyay looks back on the competition, saying, "Even though we were eighth when we had hoped to be higher, I was proud of the work we put in and how we performed. To me, it payed off in the end."
Rancourt reminisces, "I came into mock trial knowing little to nothing, and look at where we got to. I have so many people to thank for helping me improve; my mock trial team is like family and I can't wait for next year."