Mock Trial Season comes to an end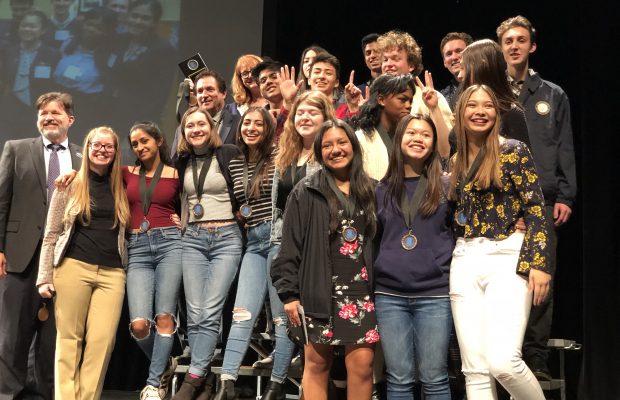 The Ventura County Courthouse bustled as teams of high school students filled with nervous energy made their way into the Jury room to begin the annual Mock Trial competition.
Their months of hard work and late nights were coming to a climax as they waited for the first round of semifinal trials to begin on Feb. 28.
Alisha Patel, senior and lead prosecutor stated, "I was super nervous for the upcoming competition, but I knew the entire program had worked as hard as we possibly could, so we were looking forward to an exciting week."
Patel has been in Mock Trial for four years, joining as a freshmen after being introduced to the program by a friend and just decided to go for it.
"The program is absolutely everything to me," Patel said.  "I've become so involved any I wouldn't want to have it any other way."
Newbury Parks JV team, the Panthers won three of their four trials but did not make it to the courthouse for the semifinals. The varsity team, Gold moved on and placed sixth in the county out of the 34 teams.
"It was great. It was awesome. The majority of the kids have been in Mock Trial for four years. Since we had so many four year seniors, they have been working together for a really long time which made it really fun," Peggy Walker, lead advisor, said.
Walker has been adviser for 13 years and plans to continue for as long as possible, as Mock Trial has become a huge part of her life.
"It's kind of defined my last few years. I think it defines students in high school a lot too. Academics is always great, but when you go beyond academics into a program, you get to know people, then it's even better. My first students and I still communicate on Facebook, they are still good friends, we knew each other through Mock Trial, and I followed them all the way through college and beyond," Walker said. " It's the connection with the students that makes programs like this more special than academics."
Emily Flores, president and four year senior shared similar feelings with Walker about the program.
"I love Mock Trial. I love all my teammates. What kept me in the program is our coaches, our advisor, Mrs.Walker, they're so knowledgeable and have helped me so much in these last four years," Flores said. "I feel like we are a very big family. I just enjoy my late nights with them on Thursdays.
Flores spent her last year as a witness before she moves on major in political science in college and hopes to eventually become a lawyer, inspired by her experience in mock trial.
"It really raised my confidence. When I was in freshman year, I would stay quiet. I would try to think only my script. I would go back and think what are the points I need to hit. But as I grew, I focused on my speaking skills and tried to keep winning," Flores said. "I have no idea where I would be today without everything this program has done for me.