Mu Alpha Theta is the path to math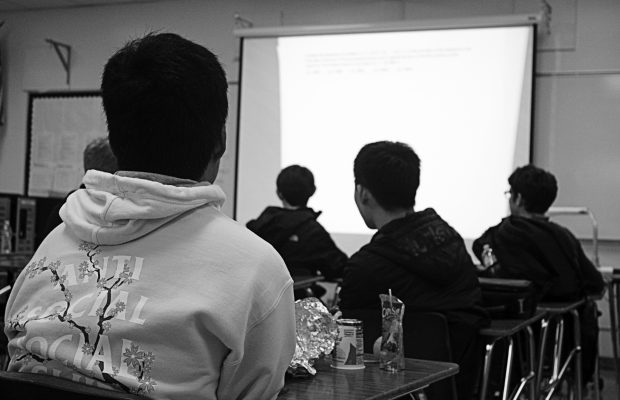 Mu Alpha Theta, the Greek letters for math, is a club that many students would not voluntarily join due to its focus on mathematics. However, there are a few students on campus that really enjoy it, and do math competitions for fun through this math club.
Mu Alpha Theta meets every Monday in D-21 to prepare and participate in math competitions. Lap Doan, senior and president, describes the club as "A place for people who have an interest in math to get together, talk about it with each other (and) nerd out."
Victoria Dzieciol, senior, has been in Mu Alpha Theta for four years. She originally joined the club because of her love of math and competitions. "(I) wanted more practice with the types of challenging problems that Mu Alpha Theta competitions have because they're totally different than what we do in class and way more fun," Dzieciol said.
There are many different competitions that the club participates in, including the Continental Mathematics League (CML) and the Atlantic-Pacific Mathematics League (At-Pac) competitions. Many students who aren't in the club can participate in those competitions to try to get extra credit in their math classes. Other competitions are just for the club, like the National Log1 Competition and the Rocket City Math League (RCML) competition. Mu Alpha Theta has been successful in many of their competitions, and sometimes wins money that they put aside for pizza.
The goal of both the individuals and the club is to improve their standings in competitions. "My personal goals for the club are to learn about how to do the various types of problems that appear in the competitions, such as problems about functions or geometry," Anish Shanbhag, sophomore and secretary, said. "As a team, we would like to make sure that furthers (the team's) understanding of math so that we can do better in our competitions."
The atmosphere of the club is Dzieciol's favorite part. "(I get) to learn from the other members when they explain how they got the solution to a problem," Dzieciol said. "Everyone approaches things in a different way and it's super interesting to see someone else's strategy. It's really helpful to see things from a new perspective and you learn a lot."
Shanbhag agrees, saying the different perspectives in the club have helped him see how to solve problems more efficiently. "Where most of our teamwork happens is when we discuss how to solve difficult practice problems. Being able to listen to how others solve a problem enhances everyone's understanding of how to complete it," Shanbhag said.
Overall, the club has many benefits. "Joining the club is really good for improving your math skills and just problem-solving skills in general, because a lot of the problems aren't exactly math as much as they are just like logic puzzles that you need to be a little creative to figure out," Dzieciol said.
Mu Alpha Theta also helps in math classes. "It teaches me how to improve my speed when doing difficult math problems — something that is useful during tests," Shanbhag said.
Dzieciol agrees, saying the competition problems help her remember everything she has learned. "The questions are completely random, (so) you never know when you might need to remember something you learned a long time ago. It's also helped me practice doing harder math problems than in class and taught me how to approach them, so class definitely seems a little easier thanks to the club," Dzieciol said. "Plus, figuring out those problems makes you feel really smart, which is fun."
Many people believe that to be in the club, they have to be good at math. In reality, Mu Alpha Theta is "not really what people would expect out of a math club," Doan said. "It's a club where we celebrate mathematical ability and we try to build each other up."