Murder mystery dinner combines spaghetti and acting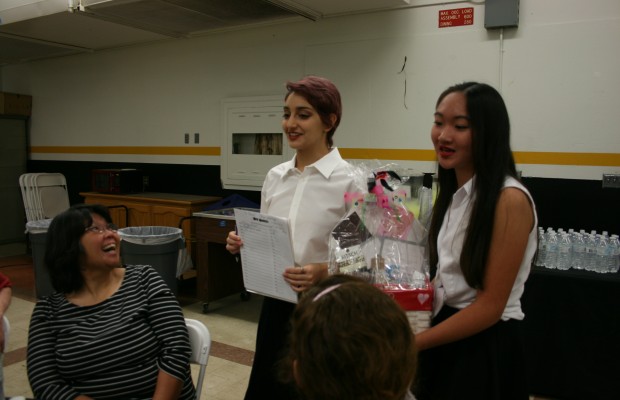 "I've been stabbed!" Craig Hastings yelled out, as he wobbled across the room in character. The murder mystery had just begun, and the audience was hungry for more.
The theater department hosted a fundraising dinner Friday, Feb. 26, and Saturday, Feb. 27, starting at six pm, featuring an interactive play revolving around the untimely murder of a producer working on a show.
"It was our first event. It was a mystery dinner; we've never done it before so that was exciting," Anthony Wermers, junior and cast member, said. "It's a lot different than our normal productions obviously, because it's similar to a style of theater called theater in the round. It's where the audience in surrounding the stage from all angles. This was very interesting because it's more natural than that. You're just out and kind of doing your thing."
The event featured an auction of different paintings and a spa treatment, raffle, and dinner from Presto Pasta, all of which benefitted the theater department. The dinner also featured musical performances from students Madeline Weiss, Evelyn Utterback, Colin Grumney, Nick Glaab, Alyson Martinez, Zoe Reed, Olivia Boyd, Olivia Saad, Emily Goldstein, Liam Lecka, and alumnus Anton Barens.
The actors, Kylie Vincent, Emily Goldstein, Noah Varav, Anthony Wermers, and Craig Hastings played interactive characters that told the story with the help of audience participation. Both Vincent and Varav, sophomores, also expressed their attitudes about the show.
"I felt really good about it. We kind of had a rocky dress rehearsal last night, but it all came together and I love everyone in the cast, and it was so much fun interacting with the audience," Vincent said. "My favorite part about playing my character was it was so different from me, and I was married to Noah, so I used to hate him last year, but now we're married and he's one of my best friends."
The murder mystery centered on a story about a producer who had been stabbed with a prop, and a detective who came to solve the case. The suspects were the actors in the production; Reginald, his wife Serena, Cha Cha, and Astoria. Whoever guessed Serena, the murderess herself, won tickets and parking passes to all school plays for 2016-2017.
Overall, the theater department plans to move forward with this type of event.
"I want this event to hopefully just get bigger and more exciting, and maybe add one more in the year, so we can have two: a fall and a spring, just like eighteen hour," Ms. Marilyn Strange, theater teacher said. "Because I think it's a really fun event that people can participate in and enjoy, and it can be different every time we do it. And there's a lot of murder mysteries out there, which is great."
Dinner and Winners – Olivia Saad, junior, and Ashley Berreth, junior, introduce the raffle fundraiser and prize that was part of the dinner night. Samantha Meyer/Prowler