New Board Members vote for Reorganization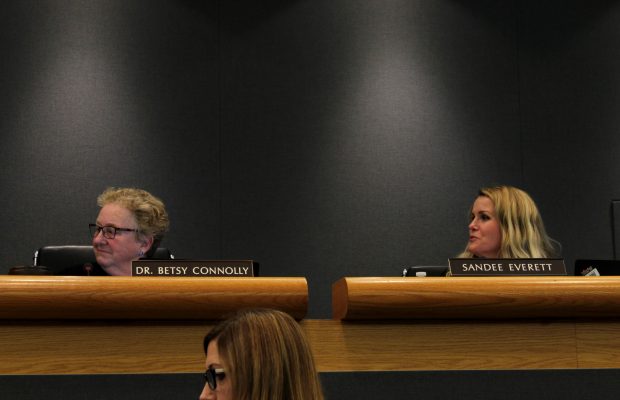 On Dec. 11, The Board of Education for the Conejo Valley Unified School District welcomed Bill Gorback, Jenny Fitzgerald and Cindy Goldberg. The newest board members were sworn in by superintendent Dr. Mark McLaughlin before the regularly scheduled board meeting.
During the board meeting, former Board President John Anderson handed off the gavel to superintendent Dr. Mark McLaughlin, commencing the annual reorganization of office positions. Trustee Goldberg nominated Connolly for board president, and she accepted. With no other nominations, Sandee Everett decided to abstain from voting and "hopes that Betsy will lead with integrity." With Everett reserving her judgement, the board voted 4-0 and Connolly became the new Board President.
Moving on to further nominations, Trustee Gorback nominated Trustee Goldberg for Board Vice President. With no other nominations or discussions the motion carried 5-0 and Goldberg became Board Vice President.
With the floor open for nominations, Vice President Goldberg nominated Trustee Everett for the clerk position, which she accepted.
Trustee Gorback was also nominated for clerk by Trustee Fitzgerald, both trustees accepted the nominations. With no other nominations, the Board opened for discussion.
"I have been the clerk, (and) it is a lot of signing of documents. I believe if Mr. Gorback would like to do it, I think he would be just fine doing it so I'll withdraw the nomination," Trustee Everett said. The motion for Trustee Gorback to become clerk carried 5-0.
Overall, the first official board meeting after the election showed the community what positions the Trustees will hold for the next year.