New coach joins Black Cat Volleyball Crew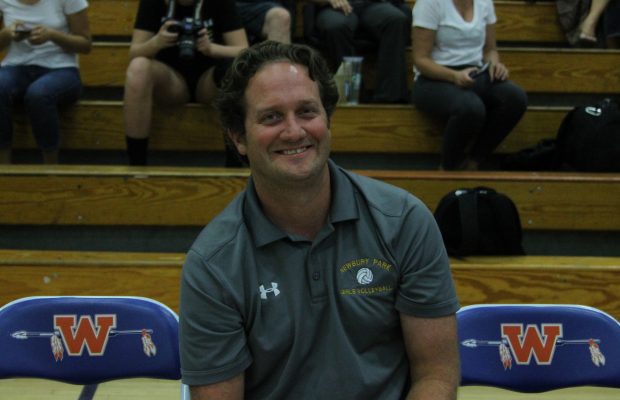 As fall rolls around and the girls' volleyball season starts up, new changes arrive to the volleyball staff. A new coach, George Hees, was introduced to lead the Black Cats junior varsity team this year and has received a lot of positive feedback from the program.
Transitioning from head coach for boys' and girls' volleyball at Oaks Christian High School for 14 years, Hees decided to make the switch to Newbury Park. "My kids will go to school here and I wanted to be a part of the community and part of my kids' volleyball career," Hees said. His daughter plays volleyball and Hees strives to be there for her in her school and athletics, as well as continuing his own career. 
With a new coach, who has different coaching experiences from Oaks Christian High School, came new strategies to improve. "I also teach during the day so I feel like a lot of teaching strategies and methods I just naturally use in my coaching," Hees said. 
According to several players, Hees also had a positive reaction from his team. JV captain Lexi Pero, sophomore, recently injured her knee the day before the first home game of the season and Hees took charge to solve the situation. 
"He totally made it my decision whether I wanted to be on the court today or not and he supported me in whatever I did. He told me he really wanted me to be on the court but if I couldn't, its fine I just have to get better," Pero said. 
Hees's goal for this season is to win the Marmonte League Championship, and he works hard with his team to reach that goal. "(Hees) mixes things up. He doesn't do one drill for a while– he doesn't like to be boring," Pero commented.
Head coach Chris Forrest said that Hees is highly regarded by the other staff, especially during the tryout process over the summer. "I was able to ask him what his opinion was and I really value his opinion on where players should be placed because he has been doing it for a long time," Forrest said. 
Both players and staff have welcomed Hees to the team, and they have said they are all excited for what this season will bring.
"To have a well qualified, well versed, experienced coach who's really great with the girls and has a great reputation like George… we couldn't have a more qualified coach for JV," Forrest said.