New hockey team takes the ice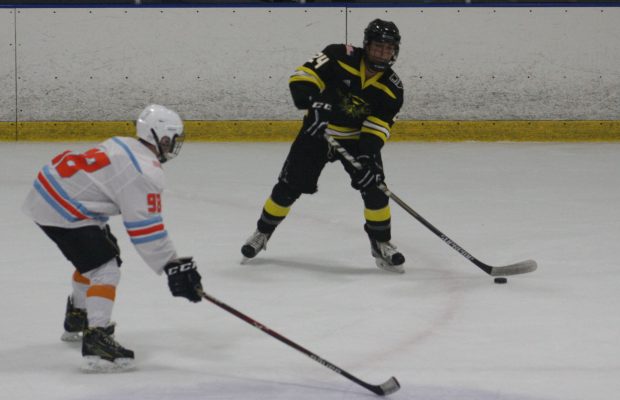 The puck is hit and slides across the ice right to the player in front of the goal. The crowd grows loud as everyone's attention is on him. The player raises his hockey stick and takes a shot straight to the goal. The buzzer rings throughout the entire stadium as the whole crowd cheers.
Through his excitement and love for hockey, Beau Lawrence, senior, started a Newbury Park hockey team to represent the school. His idea to put together a team stemmed from an old club on campus for hockey players. He decided to restart the old club and turn it into a official team.
"I think it's really good to integrate hockey as a growing sport in California and it's pretty cool to have something involved with the student body and play with people that you go to school with every day," Lawrence said.
Lawrence was able to reach out to many students who play on seperate hockey clubs,  and create a team.
Hunter Hoskins, senior, has been playing hockey since he was seven, and recently joined the team, "I think we have a great group of guys and it is just easy to bond with everyone because we all play hockey and have a common goal," Hoskins said.
With much experience and team bonding, "The best part [about hockey] is getting to share the joy of scoring goals with my fellow teammates and peers. It is cool to see people around school that you also get to athletically participate (with)," Lawrence said.
Bryan Hooker, senior, has played hockey in club teams during the past and played along side many of his teammates now, "A lot of the players have played club as well, so we have all played against or with each other for the most part. The chemistry is there and we are all bonding pretty well," Hooker said.
With many experienced players, playoffs and championships are not too far away, "I think we are really good and have a lot of talent. I think we can really excel every area of this sport," Hoskins said.
"I'm really excited to top off my senior year with being able to play for my school, something I have not been really able to do very legitimately throughout high school," Lawrence said.