New Season, New Coaches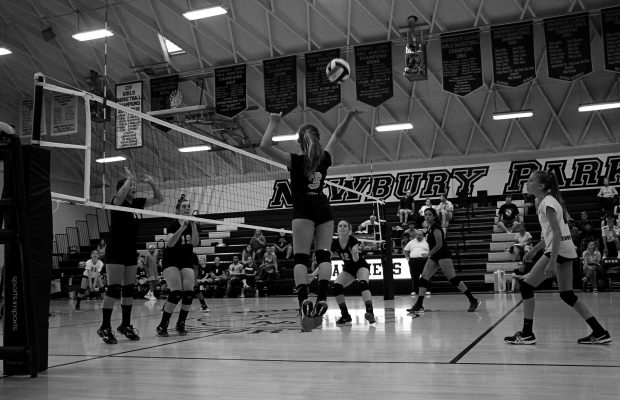 Bump, set, kill! The crowd goes wild: the teammates rush together, jumping and yelling, the parents start screaming, the coaches give each other hugs and pat each other on the back before running out to congratulate the girls. With their new coaches, the team has a new approach to games and can use a variety of skills to defeat their opponents.
In the new season of girls volleyball, the Frosh Soph, Junior Varsity, and Varsity teams all got new coaches. Chris Forest is now leading the varsity team, AJ MacArthur is coaching the JV team, and Danielle Hellend is taking on the freshman team.
Amanda Romain, senior, has been on the volleyball team since she was a freshman. Currently, she is playing for the Varsity team.
"The (old) coaches have very unique coaching styles that didn't work for our team," Romain said. "Chris understands what will work better for the team."
Romain said that the new coach trains the team on technical work and on new offensive tactics that  they have not used before,prioritizing more fundamentals to improve their technique, rather than focusing on cardio like they had with past coaches."I think the longer we play and the more practice we get doing that, it will come together more. It's coming together well," Romain said.
She hopes that this year, the team will win and continue to bond and strengthen their playing ability.
It is the first year of coaching for Helland. Helland graduated from Briar Cliff University and then came to coach volleyball for the Frosh Soph team when she was offered a position as a coach for the NPHS team.
"I want my players to be scrappy," Hellend said. "I want them to learn everything. I want them to have the best ball control they can and be able to do everything as far as hitting, setting, passing."
Hellend is preparing her girls for JV and varsity level volleyball and has high hopes for the season.
"The girls, they work really hard.  They are a good group of girls," Hellend said. "I have high hopes for this season."
Hellend hopes that they will go undefeated this year.
MacArthur has been a coach for the boys team for six years, but this is his first year as a girls coach. In addition to coaching the girls JV team, MacArthur is coaching the boys sand volleyball team.
"The girls are learning a lot quicker," MacArthur said. "It's interesting not having to repeat myself and they hear it the first time. It's always nice."
His girls started the season in summer with a workout where they got to meet their new coach.
"The girls are a good group, and its always fun to work with them. It's never a bad day," MacArthur said. "I really love volleyball, that's why I coach."