News Briefs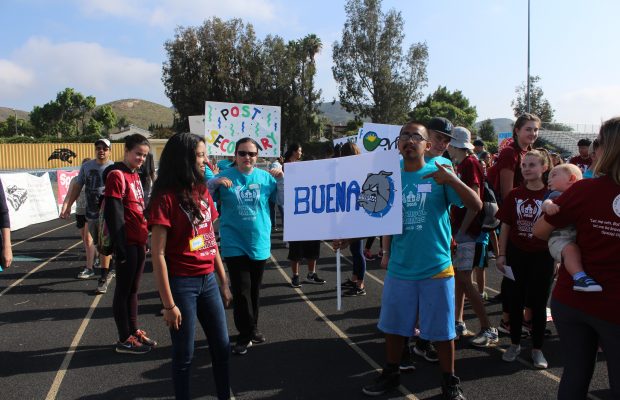 Students are awarded at NPHS' Scholarship Night
As graduation approaches, seniors are receiving scholarships for their post-graduation plans. On May 16, scholarships were presented from the Ronald Reagan Scholarship foundations. Tam Le, Sarah Taketa and Kevin Garrett, seniors, were all recipients of the scholarship. Many NPHS students were semifinalists. On May 30, NPHS held its own scholarship night to grant scholarships to students for involvement in academics, athletics and clubs.
NPHS' scholarship night was held in the PAC, where students sat up on the stage, and the members of the audience, watched their friends and family receive awards. Tam Le, senior, received many scholarships on the night and prior to the event. Le won the Ronald Reagan Scholarship which entailed delivering a speech about education, writing an essay about leadership, having two Letters of Rec and submitting her extracurriculars and community service.
The Ronald Reagan Scholarship states the recipient should, "Demonstrate outstanding leadership, character, communication skills, academic achievement and commitment to Ventura County," according to the Reagan Foundation website. With the achievement Le was awarded with 2500 dollars which help pay for educational expenses.
At the NPHS' scholarship night Le won an array of scholarships which included: National Charity League Scholarship, NPHS PFA Scholarship, CSF Scholarship, Kiwanis Mel Ashcraft Scholarship, Kiwanis Jack Sprankling Scholarship and Rotary Scholarship.
School board
In a unanimous vote, Unified Association of Conejo Teachers (UACT) officially endorsed school board candidates Jenny Fitzgerald, Bill Gorback and Cindy Goldstein for the 2018 election. "UACT has decided to put its support behind candidates we feel will maintain the Board's focus on productive discourse, governance and insuring a high-quality education for all of our students," Doug Freed, UACT Political Action Chair, said. Current board trustees Mike Dunn and John Anderson are up for re-election, and board trustee Pat Phelps will likely not be running for another term. UACT interviewed all eight of the candidates and decided to endorse their choice earlier than normal this year, as they feel this election is particularly important.
Special Olympics used as alternate punishment for Saturday School
Students nationwide walked out of school on April 20 in protest of gun violence in schools across the nation. The walkout was not approved by the school administration and was therefore considered an unauthorized departure. Students who participated received a Saturday School, the standard punishment for an unauthorized departure.
Approximately 100 NPHS students walked out of class. Due to this large number, Steve Lepire, principal, created an alternate punishment to help lessen the load on teachers administering Saturday School. Students could choose if they wanted to attend a four hour Saturday School or volunteer for six hours at the Special Olympics on May 19.
"It was just an opportunity on the calendar to give them an option to still serve their requirement, but if they wanted to think of it as more of a positive opportunity than just Saturday School, where they are actually helping and giving back," Lepire said.
Unfortunately for students that were already signed up to volunteer at the Special Olympics for a different reason, they were not given this opportunity and still had to complete a Saturday School.
"We were able to get a list of students who (were) already signed up and committed to (the Special Olympics) because they either had a commitment such as NHS or CSF. Those students that were already required to (work at the Special Olympics), were not given the option to use that as their Saturday School because it would be essentially considered double dipping," Lepire said.
Valedictorians are honored at many events
In recognition of their dedication to academics, 29 students achieved the status of valedictorian this year. To achieve this prestigious designation, students must surpass a minimum GPA requirement of 4.65. The valedictorians have been recognized at many events over senior year.
The valedictorians were acknowledged at Senior Recognition Night on May 24, which was held in the PAC. Many seniors attended the event and packed the stage as their parents watched from the audience. The event lasted over two hours and the valedictorians' names were read aloud again.
Additionally, these students will be honored at the school board meeting on June 5. The board meeting will recognize "the valedictorians from the different schools and we receive our plaques and certificates there," Arielle Buchanan, senior and valedictorian, said. "It just helps to put the achievements in a more macroscopic perspective since we will get to see and meet other valedictorians and the event isn't isolated to just our school."
At graduation on June 8, the valedictorians will be awarded a medal that they will wear throughout the ceremony. Also, at the beginning of graduation the students who achieved this accolade will have their names and the college they are attending read to their peers along with a short video.
Seniors chicken out over prank
As students stared in confusion, several chickens roamed around the school, drawing the attention of the entire campus at the beginning of nutrition. Some students started to chase the chickens or hold them.
The cause of the entire incident was believed to be a senior prank, which occurred on May 29 at nutrition, prior to the first rally for the day. "We believe it was a senior prank but nobody actually confessed up to it. So basically ten chickens were released in the quad at break time but we were able to round them all up safely and bring them back to my house," Michael Godfrey, Athletic Director, said.
Prior to the incident, Godfrey owned three chickens himself. The group of fowl were rounded up from the school and joined his flock since there has not been a senior to claim their animals. The 11 chickens at the school are now all residing at Godfrey's house and will remain their unless someone comes forward to claim them.
The chickens were rounded up the chickens by putting them in coffee boxes and then moved to Godfrey's house. All chickens that were released on school were not harmed in any way.
"Nobody claimed responsibility so we wouldn't even know who to give them back to," Godfrey said.
According to Godfrey, there will not be any consequences associated with the senior prank that took place.