NHS recognizes students at annual award ceremony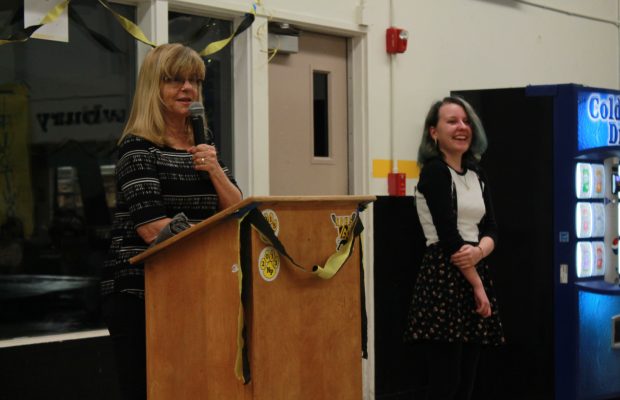 Trustworthiness, respect, responsibility, fairness, caring and citizenship. These are all things that make a student one of character in the eyes of our school's National Honors Society (NHS). The cafeteria filled with students and their proud families as the annual ceremony for Students of Character began on Feb. 1. The event took place from 6:30 p.m. to 9 p.m.
For two years, Richard Bradley, co-advisor of NHS and social science teacher, has worked alongside Anne Alvarez, co-advisor of NHS and special education teacher, to promote the club's values.
Despite having only co-advised NHS for a couple of years now, he has participated in the Students of Character awards every year. He insists that the ceremony reaches beyond academic success, "For me, it's special because a lot of the time the students who get recognized aren't your valedictorians. I always try to (award) the students who are quiet leaders, people with moral character, integrity and compassion," Bradley said.
Hannah Neiyer, senior and NHS president, received her first Student of Character award her sophomore year. As president, she has spent much of her time planning for several of the club's events alongside Alvarez and Bradley.  
She especially enjoys this ceremony for several reasons, but her favorite part is, "hearing all the staff members speak about each student because it is really heartwarming and is a really special moment for those students and their families," she said.
Carol Garcia, senior, received a letter about a month ago in her third period class which notified her of the ceremony and her award.
Award recipients were not aware of which teacher nominated them until the night of the ceremony. After weeks of contemplation, Garcia learned that Lorena Caulfield had recognized her as a student who goes above and beyond, in and outside of the classroom. Garcia said she felt "very happy listening to the nice things she said to (her)."
Students of Character is one of the many events hosted by NHS that brings together not only students but also the community.
"My favorite part of the ceremony is just seeing how diverse character is… It shows you that there is no definitive definition of character. It's very diverse, you just know it when you see it and I like seeing the joy in the parents because it's not just about the students, it's about the families too," Bradley said.