November music: songs to be thankful for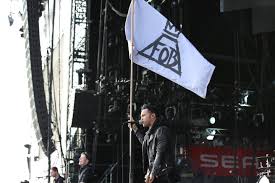 Unfortunately we couldn't find any songs celebrating the massacre of American Indians, but here are some memorable beats, nevertheless.
"Heart of Glass" by Blondie- Even though the weather is colder now, this song reminds me of summer. It's got a beachy vibe that makes you miss the beach.

"River" by Bishop Briggs- I discovered this song while coming home from a Young the Giant concert, and it changed my life forever. The lyrics are powerful, but they're nothing compared to the vocals. Briggs' voice is like punches, and the song makes you feel like you're giving them.

"Memories" by Lewis Del Mar- The dramatic elements in this song, like the loud beat and bass, make you want to be an action hero, or maybe sing dramatically into a hairbrush. It's close enough.

"Self Control" by Frank Ocean- Frank Ocean is LIFE. The man, the myth the legend released a new album over summer, and I'm still addicted to the songs in the fall. Ocean exemplifies coolness and artistic innovation, and is definitely worth listening to, hip hop fan or not.

"Killer Queen" by Queen- Though most of the songs on this playlist are new, it's time to throw it back with some good ol' Queen. Queen will forever be timeless, and "Killer Queen" is a killer song to dance around to.

"Chill Bill" by

Rob Stone ft

J. Davi$ and The Spooks- Kill Bill is one of my favorite movies of all time, and listening to the intro that features an iconic song in the movie gives me chills. In addition, I have been really enjoying current hip hop songs, and this track is the epitome of the style.

"Prism" by SHINee- I'm not really a kpop fan, but SHINee has won my heart. All their songs are upbeat and

flawless,

and "Prism" is no exception: it gets you amped for the day while being memorable.

"Lítur vel út" by Aron Can- Even though I don't understand anything Can is saying, I absolutely idolize the flow of the music behind it. If you appreciate Drake's or Frank Ocean's current albums, you will fall in love with Aron Can.

"Reykjavík" by Emmsjé Gauti- Icelandic hip hop is so lit right now, I had to add another track to this playlist. "Reykjavik" is perfect for parties or if you just want to throw your own dance party in your room.

"20 Dollar Nose Bleed" by Fall Out Boy- Once you are an emo teen, you are always an emo teen, and Fall Out Boy brings back those late '00s pop punk vibes. If you need a good song to just vent to, this is your go to.
https://open.spotify.com/user/pantherprowlermusic/playlist/6AJsOhwJb4qGys9LoUrqyX