NP Dance Team adapts to change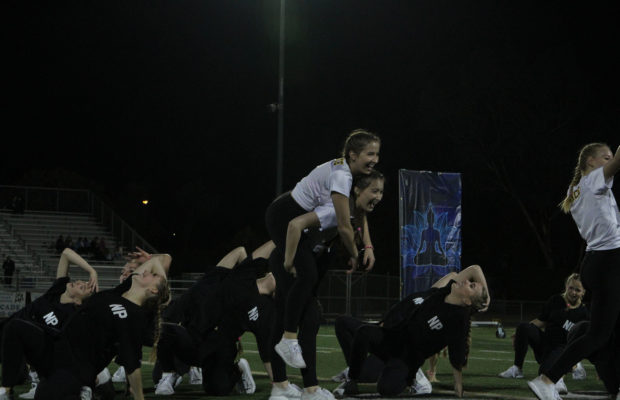 Newbury Park's dance team rises to the stage for another year and as they train for competition, several coaching changes have been made. All three coaches, as well as about half of the dancers, are fresh to the team.
Cameo Carolan, one of the new coaches, taught at Newbury for 12 years until she took a four year gap from the team returning this year. "I'm excited to come back to it. During that gap, I really missed out on the relationships with the kids and the parents… so that's what I'm most excited about is coming back to it, with experience, but kind of like a new breath of fresh air," Carolan said.
Many of the dancers even describe Carolan as the "mom" of the program. She has been focusing mostly on organization and communication with her team this year to keep her team relaxed and know whats happening. Emily Halpern, senior captain, believes that the return of Carolan has been really good for the team. "She knows a lot about how dance team works and what we need to do to win," Halpern said.
In addition to Carolan's return, the dance team gained a new head coach this year, Mark Mundi. Mundi started dancing on the Newbury Park Dance Team before moved to L.A. and became a professional dancer and choreographer. He has now returned to the school to teach the new generation of dancers. He continues to professionally dance and choreograph on top of his new position as head coach.
Jane Saylors, sophomore, is one of the 11 new additions to the team out of 25 total dancers. Salyors has been doing studio dance for six years before joining the team. "It was a big transition from going to a studio but everyone is super welcoming and I love it," Saylors said.
As one of the older, more experienced members, Halpern serves as a role model to the new dancers. "Now we get to meet a bunch of new people and expand our family. It gives the old members more of a leadership role to show them how everything works out," Halpern said.
With the experienced dancers' help, the 11 new dancers will learn how to dance the NP Dance team to victory. With many events ahead of them like competition season in June, the Winter Show, and Best Dance Crew, the dance team says they are very excited for the season.