NP hosts annual Mistletoe Tournament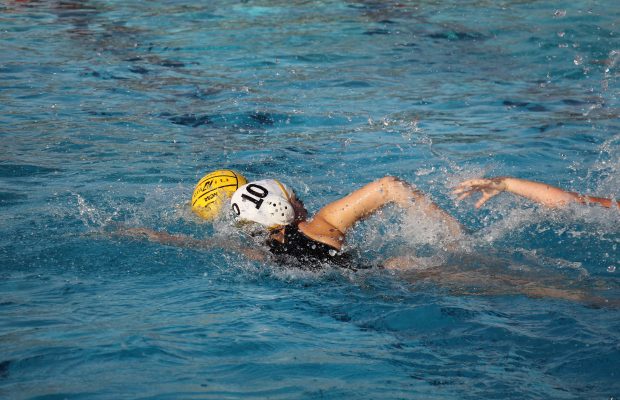 Coaches and teammates cheer as the center attacker swims the water polo ball down the pool towards the goal. She and her team line up facing the goal, preparing to shoot. Score!
The Mistletoe Tournament occured on Sat. Dec 2. It featured girls' water polo teams from as far north as Arroyo Grande and as far south as Orange County. There were between 25 teams at the tournament who came to compete at the NP, Thousand Oaks and Westlake pools.
"The Mistletoe Tournament is a tournament to get everyone in the holiday spirit and just get teams around the county to play each other and get a feel for the season," Paris Askren, senior, said. NP has been hosting the tournament for seven years.
To prepare for the Mistletoe Tournament, the Varsity water polo team decorated the pool deck with Christmas related decorations and invited Jolyn, an athletic swimwear company, to come and have a trunk show.
"Every year after the practice before the tournament, we all decorate the pool deck after practice. We play a bunch of holiday music and we get hot chocolate and cookies," Jacqui Pluckrose, senior, said.
Although competing at their home pool is easier than traveling, it brings other challenges.
"Its really nice not having to travel. But at the same time, you're defending your home pool and there is pressure to do good," Delanie Lavacude-Klenck, senior, said.
Many of the girls who play at the varsity level started playing water polo when they were freshman. After encouragement from Coach Dave Gleisberg, Lavacude-Klenck joined the team when she joined high school. She is now one of the team captains.
"Water polo is fun because everyone is so welcoming. It's a really fun sport to play. Although it's kind of a hard sport to pick up it's a really really fun sport and everyone is super supportive," Pluckrose said.
The NP girls water polo team placed second in their tournament after losing the last game to Oaks Christian.