NPHS Celebrates its 50th Birthday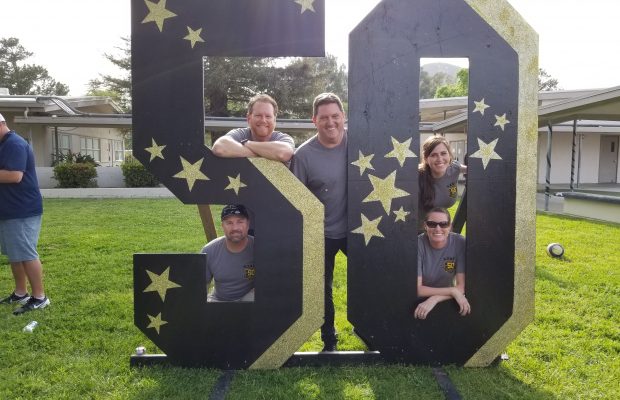 Past, current and future Panther students and staff filled the quad on May 5 to celebrate the 50th Anniversary of NPHS.
The campus was completely decked out with black and yellow streamers, balloons and posters, displaying the relentless school spirit that has existed for five decades.
Carmen Armstrong, a former administrator, has fond memories of Newbury Park High School.
"I've always liked the friendliness. Very very friendly bunch of people, for the ones that I worked with. Of course, I don't know about present day but it was like family. It was very pleasant. I never looked at it like work," Armstrong said.
Having devoted 44 years of her life to education, Armstrong has an extensive history of involvement on this campus as well as other schools, working as an administrator, a principal, and a Spanish teacher. Among the crowd, Armstrong could even point out many familiar faces, like a man in a pink shirt nearby.
"He was my student in the fourth grade in 1954… he drove all the way from Palm Springs to see me," Armstrong said.
Even after such a long time, Armstrong still runs into other students and former co-workers around town and at other reunions.
"I think as teachers most times we don't realize what students remember about us … one of the young ladies, a woman now, came up to me and grabbed my hand … she said, 'Mrs. Armstrong, what happened to your nails?' I was playing the harp at the time so they were really short … all she could remember about me was my nails," Armstrong said.
Joan Sparks, a former PTA member, has family who attended NPHS. Her two children graduated from NPHS in the 80s and early 90s, and her grandson is currently a Panther.
"So, so much (has changed). I mean this quad, everything. The benches, it's just wonderful," Sparks said, admiring the new and improved campus. "Before the new stadium, a lot of the parents built … the tiers. And my husband and I were part of that crew."
Sparks was part of the PTA from 1984 to 1993.
"My daughter is right over there in front of the dunk tank," Sparks said, pointing across the quad where a woman was directing the dunk tank to fundraise for the NPHS football team.
"(I think of) my kids, what they did here, and volunteering on PTA, and I have very good, fond memories," Sparks said, reflecting on her experience with this school.
Like Sparks, Debbi Tubb, community member, also has a grandson who currently goes to NPHS. Graduating from NPHS in 1972, she is part of one of the first graduating classes. Tubb is greatly appreciative of the school that is now celebrating its 50th birthday.
"It's just a really good school, a really good community, the people are great. I love the area," Tubb said.