NPHS celebrates kindness instead of love on Valentine's Day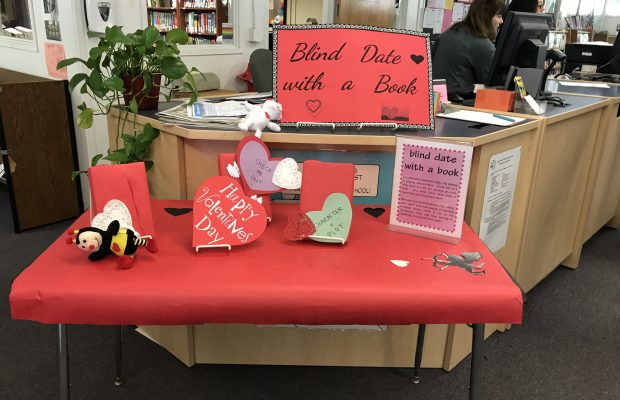 Students and staff spread kindness this Valentine's Day by making Valentine's grams, putting on blind date with a book in the library and making senior hearts.
The week before Valentine's Day, Random Acts of Kindness (RAK) used a lunch period to make Valentine's grams with anyone who wanted to participate. On Valentine's Day, they passed out the letters with pieces of candy to students.
"For this event I wanted it to be open for anyone who wanted to show their appreciation to any friend, teacher or staff member in a fun, inclusive environment," Lisa Liu, senior and president of RAK, said.
The library also took a friendly approach to Valentine's Day with their third year of playing matchmaker with books. A table next to the entrance to the library held books wrapped in red paper, and students were invited to check out a book without seeing the cover or reading the summary, lest they judge a book by its cover.
The informational sign on the table read "To celebrate Valentine's Day, the Library is playing matchmaker! Going out on a blind date is a lot like opening up a new book – you never know what kind of experience you're going to have."
Although some students were skeptical of a "blind date," the library staff encouraged them to take a chance. "At first [students] were curious and sometimes we needed to explain what it is. Maybe they were shy and they wouldn't take out a book, but we want them to check out as many as they want," Fey Ouyang, the library assistant who ran the event, said.
Associated Student Government (ASG) also surprised seniors by writing their names on hearts and putting them up all around campus.
"We hadn't done anything for the seniors yet so I thought it might be a good idea to do senior hearts," Audrey Washington, a junior in ASG and event organizer, said.
Overall, the school created a happy and friendly environment this Valentine's Day. Liu said that her goal was "to just let people have fun and spread love and kindness to others on Valentine's Day."