NPHS joins national anti-gun violence movement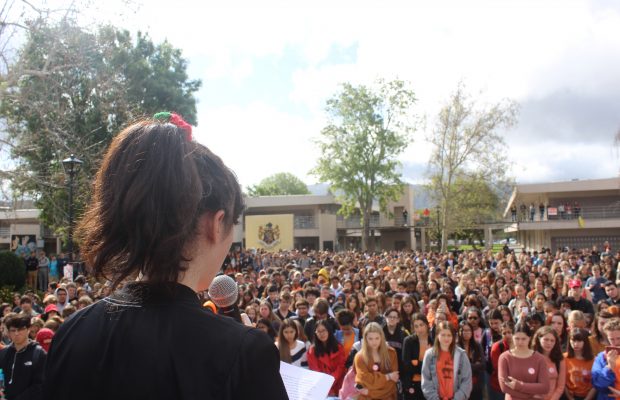 On March 14, one month after the Marjory Stoneman Douglas High School (MSDHS) shooting in Parkland, Florida, NPHS participated in a nationwide student walkout to show solidarity with MSDHS and to stand against gun violence.
High school students from Westlake, Thousand Oaks and Newbury Park met at Art Trek on March 9 to plan the walkout.
"It was just so empowering to see all these people from different schools who don't even know each other come together and it really made me want to do more and made me want to participate," Scott Nagatoshi, junior, planner and speaker of the event, said.
Students worked together with administration to plan this student action event, and compromised with them regarding the parameters of what they could do.
"It was so incredible because I wasn't expecting that many people and I saw people crying and I saw very few people goofing off and most of them sombered up by the end of it," Ayla Dvoretzky, senior and and student that originally started the event, said. "I saw so much respect and so much unity and that was really the point of this, unity."
A sea of orange– the color students were encouraged to wear to remember the victims– surrounded the stage from 10:05 am to 10:30 am. The event demonstrated the passion that students have about the issue and what they are willing to do to support change. 17 NPHS students individually honored the 17 students of MSDHS that lost their lives during the tragedy. Four of those 17 NPHS students, including Sam Church, junior, Isabella Robakowski, junior, Misa Nguyen, senior, and Dvoretzky, then spoke on the issue of gun violence and the problem plaguing our country.
"I think it's brought up a lot of talk, a lot of controversy. It's definitely something that's going to be remembered for a while," Lexi le Blanc, senior and speaker at the event, said.