One Acts: Student Driven Entertainment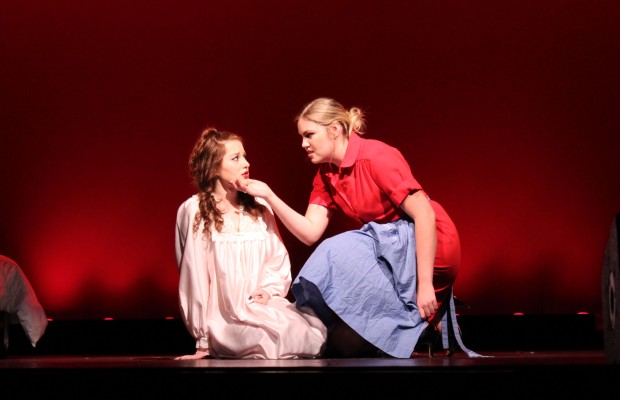 Prop knife in hand, one student actor struggles to kill the other in order to avoid the impending nuclear explosion that will surely kill them both. One actor is stabbed and the other is choked, and both soon lie dead on the couch in the room they were trapped in. Only then was it all revealed to be a twisted lab experiment.
This one act, called Zero in, was just one of the seven one acts performed by the campus drama club and theatre classes on March 31 and April 1st. These one acts are entirely the product of student man-hours. They were: Call Me Marilyn, Original Cast, Sweet Cakes the Bear, Pals, Zero In, Ancient Poker, and Bachelor Party
"Every Year the one acts are student produced, directed, and written," said Liam Lecka, senior and actor in Ancient Poker.
The Theatre two class was particularly involved in the creation of the productions this year.
"(After) the One Acts were written the Theater Two class students directed them, and from there anybody can audition," Lecka said.
The one acts were produced around a wide variety of genres, including comedies, musicals, and some more serious productions.
The majority of actors performed their parts well, with enthusiasm and noticeable expressions. While some actors failed to project or seemed a little stiff, these were definitely the rare minority. On the other end of the spectrum, some participating students had noticeably excellent performances.
Senior Miranda Braza, with her zealous performance of Marilyn Monroe, in the one act Call Me Marilyn, was one such example.
Braza made a significant effort to channel Marilyn's personality and character onstage.
"I prepared by watching Gentlemen Prefer Blondes (in which Marilyn acts) to try to capture her essence, she said."
Braza loves her time performing in the limelight.
"Bening onstage is one of my favorite feelings, she said, "It's a rush of adrenaline because everything is live and there's no way to redo a scene once you perform it. It really keeps me on my toes."
The lighting, props, and sound effects were all well handled, and the stagehands/techies showed their skills once again. The lighting in particular helped to effectively alter the mood of each production.
Kylie Vincent, senior, was one of the writers who helped to create these original works of theater.
She described that, "… writing is such a wonderful artistic outlet to create a work of art for people to be inspired by."
As a writer, Vincent enjoyed being able to see the accumulation of the work she put forth for her production, Call Me Marilyn.
"It felt amazing to see my own project on stage, it was better than I imagined," she said.
While the plots of some of this year's One Acts seemed convoluted at times, the actual performances themselves were nonetheless extremely enjoyable to watch, and even more so because of the fact that they were the result of 100 percent Panther efforts.