One year later…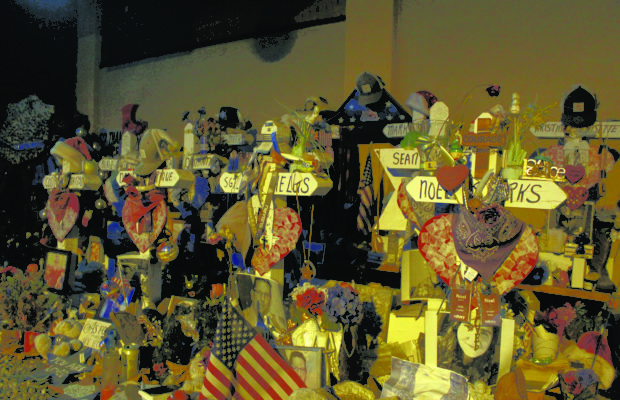 Thursday, Nov. 7 marked the one year anniversary of the shooting that occurred at Borderline Bar & Grill in Thousand Oaks. At around 11:20 p.m., an armed individual entered the building and shot twelve people, in addition to injuring 10 to 12 others. The tragedy left a large impact on the community of Thousand Oaks, leading to a building sense of communal support and fueling the nationwide call for stricter gun control. 
As a result of the recent anniversary, community members are coming together to remember the lives lost last November in several ways. 
Healing Garden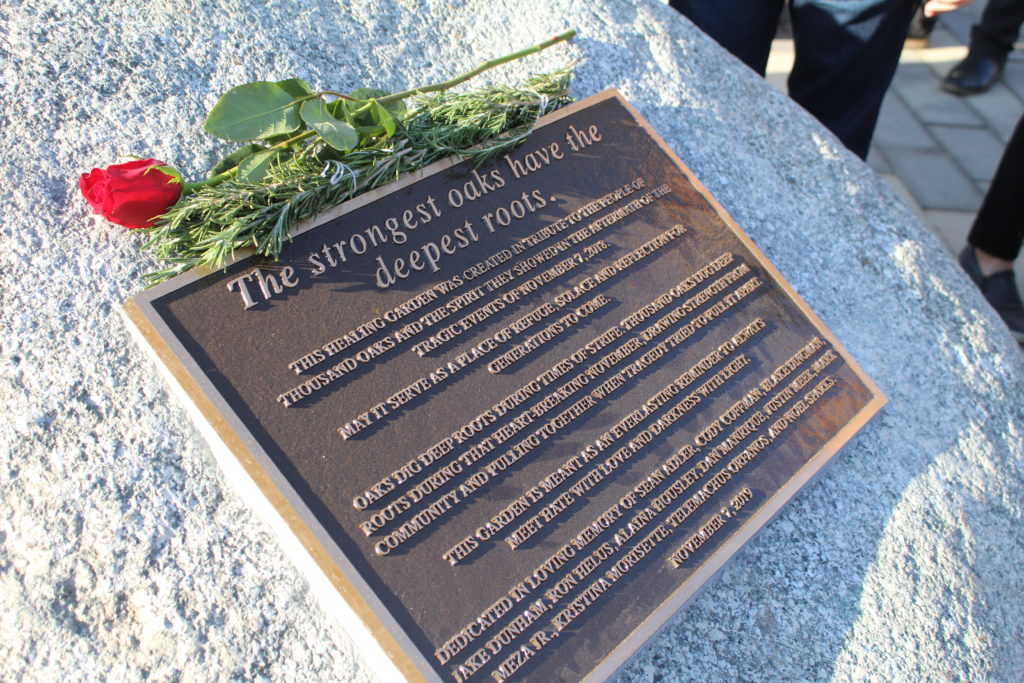 The Conejo Parks & Recreation created a monument in remembrance of the Borderline shooting at the Conejo Creek North park in Thousand Oaks. The Healing Garden was created to be a serene space for the entire community to destress, unwind and, as the name suggests, heal.
Andrew Mooney, project manager of the Healing Garden, felt that the idea of something incorporating nature resonated the strongest with the committee. "With the business of all our lives, cell-phones, TVs, we get disconnected," Mooney said. "This space provides a retreat."
The Borderline 12 are signified throughout the memorial: 12 vertical fountain jets in the center of the preexisting lake, 12 boulders alongside the shoreline and 12 granite benches. There is also an oak tree overlooking the water and various drought tolerant plants. 
Another notable feature of the memorial is the 248 concrete pavers placed alongside the Healing Garden, each representing a survivor of the tragedy. 
"We had survivors, victims families, as well as first responders invited to a private event so that they could be able to write a message (on a paver) and install it into the plaza," Mooney said. "It really anchors and promotes the space as a community space."
Yesterday, the anniversary of the shooting, hundreds of Conejo Valley citizens gathered at Conejo Creek North for the Healing Garden's unveiling. Jazzmine Mendez, Eileen Rodriguez and Aubree Hurtado, were among the crowds at the dedication ceremony.
"My friends and I are survivors, so we thought it'd be nice to pay our respects, and to have a place to come and reflect, and really be grateful that we're still here and able to spend time together," Mendez said.
The three can all recall how the community came together to support each other, from the moments after the shooting until now. "Whether you were there or not, you're a part of the community, and so it's really great that everyone's coming together to be happy," Rodriguez said. "It really shows how we're dealing with something together as a community, it's really great," Hurtado added. 
Community events
Banyan Fundraiser
To help provide support for the community, Banyan Elementary has held two fundraisers in the past year, donating their proceedings to Give an Hour.
The school's PTA sold decals, shirts, sweatshirts and mugs with designs created by Brynn Hutchison, a fifth grade teacher at Banyan.
The design of the emblem was made with the victims of the tragedy in mind. "The design is an oak tree with twelve dangling hearts representing the 12 lives lost in the Borderline shooting," Hutchison said.
Hutchison came up with the idea last year."I was sitting around watching the news and feeling horrible about all of the things that were happening to our community," Hutchison said. "I started doodling an oak tree on my iPad to distract myself and then decided to keep working on it and make it a tribute to those we lost in the Borderline tragedy."
Lauren Shaffer, previous PTA President at Banyan Elementary, launched the fundraiser last year when she learned of Hutchison's design. "[Hutchison] is so creative and posted it on social media," Shaffer said. "I thought it could be a great way for Banyan to help. Everything fell into place and it worked out beautifully. People still tell me it is their favorite TO Strong design."
Hutchinson believes mental health to be an extremely important element in helping the families and survivors, and that belief translates to her work. "My hope in selecting this charity was to provide our community with access to mental health services to help heal from this event and hopefully prevent other tragic events in the future," Hutchison said.
The money went to Give an Hour is a non-profit organization that started back in 2005. They help families and survivors of mass shootings. The money raised is used to provide free mental health care to those in need after traumatic events. Shaffer says that between the two fundraisers, "we all have raised nearly $2,000."
To buy a shirt, sweatshirt, or a zip-up hoodie from Banyan, visit this website! http://totalbranddelivery.com/banyanbobcats/
Highway Dedication
Sgt. Ron Helus, who lost his life in the Borderline tragedy, was honored this past Wednesday, Nov. 6 with a special dedication. The sergeant, who spent 29 years within law enforcement, was one of the first responders to the Borderline following the initial call that night. 
To commemorate Helus' acts of bravery, the 3.4 mile stretch of the 101 Highway was dedicated in his honor.
Assemblymember Jacqui Irwin proposed this idea at a Thousand Oaks City Council Meeting in January 2019. "Although this is a small gesture, I hope that by dedicating a stretch of a highway traveled by so many in the region, we can continue to be reminded of Ron's legacy of service and sacrifice to our community," Irwin said in a statement at the meeting.
The selflessness displayed by Helus that night will always be remembered by the community as a whole. "He's a warrior, definitely a hero in our minds," Ventura County's Sgt. Greg Webb said in an interview with ABC7 at the dedication service on Wednesday. "The community has really been there to support Ron and his endeavors and what he meant that night."
Classroom of Compassion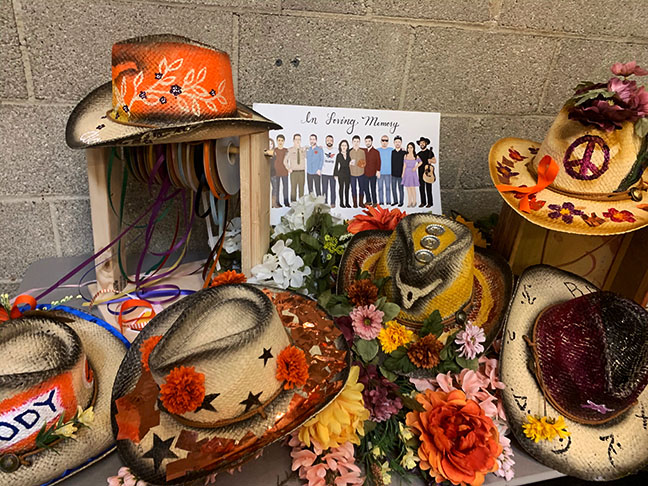 On Sunday, Nov. 3, Noah Reich, 30, and David Maldonado, 31, held an event to honor Borderline victims at the Los Angeles LGBT Center in West Hollywood. This event was presented by Classroom of Compassion, a project the pair have been working on since June of 2018.
Classroom of Compassion started after the 2-year anniversary of the Pulse nightclub shooting and has since extended to help other communities around the country who have faced similar devastation. "When the second anniversary of shooting came around in June, we really wanted to honor everyone who had been lost," Maldonado said. "Ever since then, we've dedicated our craft to trying to hold space for folks that need it, and just trying to remind everyone how more connected we are than we think."
Reich and Maldonado, who are from Encino, California, travel across the United States in hopes of providing compassion as a public service to those who need it most. "We travel the country with the mantra of 'I hope u know how loved u are' to help provide any type of healing spaces ranging from workshops, like the one we did this past weekend, to street art installations, and public memorial sites," they said.
The event held on Sunday involved 20 individuals of all gender identities and sexual orientations remembering the victims of the Borderline shooting through an art display. "We all created custom cowboy hats, one in honor of everyone lost. Individuals had the opportunity to tell the story of those lost, to create something beautiful in their honor or to tell their message of compassion to the city of TO," Reich said.
The group also installed a banner with the pair's mantra of "I hope u know how loved u are," created by resident Gracie Lee, on the 101 N Freeway overpass over Lynn Road.
From the time Reich and Maldonado have been in Thousand Oaks, they said they observed how unique the community is. "We've seen the community of Thousand Oaks and the Country Strong community really come together to create a supportive system of hope," Maldonado said. "During these times, a sense of community is incredibly important for not only for those affected directly, but for all of us who feel like we want to help make a change."
Remembering victims
Dawn Megli, a reporter for the Thousand Oaks Acorn, has spent the past 12 months supporting members of the community during this tragedy. She has told their stories and shared their pain.
"There has obviously been just 12 months of heartbreak, 12 months of weeping, 12 months of mourning, but I think that it has also made us all aware of what's important in life," Megli said.
Despite the devastation, Megli believes that good has come out from the darkness."I think this has brought us down to basics and made us focus on things like family and kids and neighbors and just checking in with each other in a way that we didn't do before, and I think it's made us very intentional about the way that we connect with others and our community."
She believes that it is the little things that the community does to show their support that go a long way. "You know, the fact that you drive around town and see Borderline strong and TOstrong bumper stickers, I think that means a lot," Megli said. "I was interviewing Gladys Manrique, who lost her brother Dan in the shooting, and she said that she doesn't think people understand the impact of those stickers and the Thousand Oaks strong shirts, and that she feels really supported when she sees stuff like that."
Listening to the stories of those who faced tough times is an important factor of bringing the community together. Established earlier this year, Thousand Oaks Remember is an organization using storytelling to preserve the memory of the lives lost last November.
On Nov. 8th, the group is hosting an event at the Civic Arts Plaza to share the stories of five people affected by the shooting, as well as a reception where additional stories and artwork will be available to view.
"It is our hope that when people share stories with one another they will see each other with more compassion, and they connect with and look for the humanity in one another," Savage-Howie said.
The goal behind the event was to give the community a space to reflect. "In some ways I think it's hard to see what the changes are because we're all so close to it," said Savage-Howie. "However, I think for many people there is a deeper shared sense of community than before. In some ways we feel a little more like we belong to each other."