Orchestra students create music at Carnegie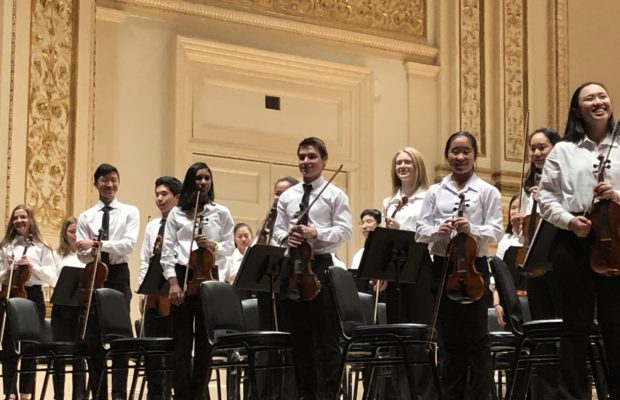 Performing at Carnegie Hall is a dream for any musician. Several NPHS students got the opportunity to experience this dream as teenagers. From Jan. 30 to Feb. 3, seven orchestra students traveled to New York City to perform at the prestigious venue through the Honors Performance Series.
Tina Huang, orchestra teacher, has sent many students to Carnegie Hall over the past five years. "We consistently have had students go to Carnegie Hall, but this year has been our largest number of participants," Huang said. Students who are selected to perform are typically those with much more experience than their classmates. "All the students who get in typically have been playing their instrument for more than five years… so they've already achieved a high level of personal accomplishment," Huang said.
Tara Avetisian, junior, has been involved with music for several years. "I have been playing violin for seven years and I have been doing school orchestra for six years," Avetisian said. She was inspired to audition over the summer after seeing classmates go to Carnegie Hall in years past. She explains that students have to undergo a lengthy process in order to be accepted into the program. "I had to get a teacher recommendation for the program… I received my audition information in the mail and had to send in an audition recording and a written application over the summer," Avetisian said. Applicants found out whether or not they were accepted in late December.
Ambal Kailasam, freshman, plays the violin and received a teacher nomination for the program despite being new to the orchestra. She recalls the moment that she found out she was invited to Carnegie Hall. "I was really happy. I found out  around lunchtime one day, and then my dad found out before I did… we were all really happy," Kailasam said. Once they arrived at Carnegie Hall, students intensely prepared for the upcoming performances. "We only had a couple days before the performance to actually rehearse with the whole group. But it was really long rehearsals… from nine in the morning to five in the afternoon," Kailasam said.
Before the performance, Avetisian was promoted to serving as the concertmaster for the entire program. This position entailed certain responsibilities and leadership. "As concertmaster, I (made) sure that everyone in my section (had) the same bowings, and (I was) also in charge of tuning the orchestra at the concert," Avetisian said.
Although students had to perform, not all of the trip was devoted to practicing and rehearsals. The group ventured throughout New York City to make the most of their experience. "I liked the sightseeing the best. I mean, that's like why a lot of people go to New York… (we also) saw a Broadway show," Kailasam said.
Huang believes that those who are accepted and attend the program leave as better musicians. "I think for them, that was really an eye opening experience to realize (that this) is how you should be when you're expected to play a professional level," Huang said.