Panther Pals form friendships with special education students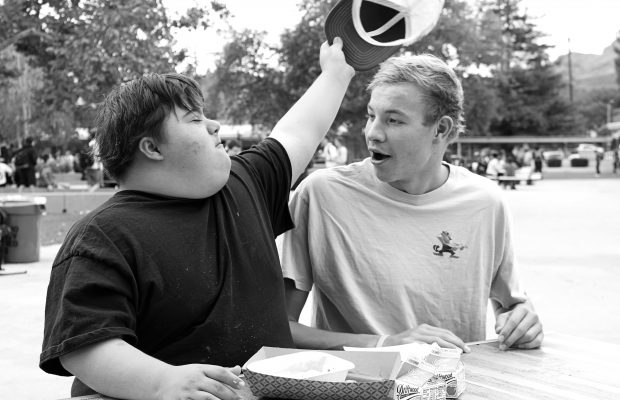 Every Tuesday at lunch, 25 Panther Pal club members congregate at the lunch tables near the E building with special education students by their side. The Panther Pals eat lunch and spend quality time with these students.
"I personally think it is important because otherwise these kids would be secluded at our school, so even going and spending a little time with them shows we want to … be their friend," Dalton Yoos, vice president and junior, said.
Rhea Zaib, senior, also sees the importance in the program and was interested in attending meetings.
"What they are doing is really cool, and I would like to spend more time with the special education kids because I don't really interact with them on a regular basis," Zaib said.
They also volunteer at Special Olympics and Special Prom, where they assist with setting up and participating in the events with the students.
"It's really fun for everyone," Austin Brunk, junior, said.
Brunk and Yoos both joined because they were T.A.s for the special education class, where they claim they fell in love spending time with the kids.
"I love the special needs kids and I'm just drawn to them. I want to be a special needs teacher," Brunk said.
According to members, it is not only enjoyable for them but for the special education students as well.
"Some of kids know us by name and get really excited when we come in," Yoos said.
Both recommend the experience to others and encourage fellow students to join the club.
"I think others should join," Brunk said. "We get new people coming in everyday."