Panther Pit brings school spirit to basketball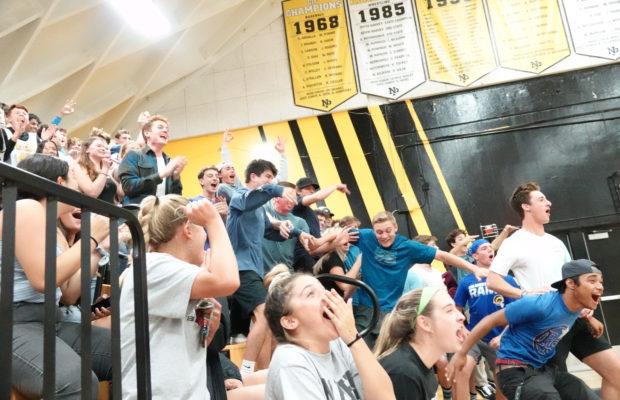 The NPHS gym was filled with spectators, squeaking sneakers and most of all, Panther spirit. While families and friends of the players gave their support on the bleachers, a special section sported blue shirts as they cheered for Newbury Park.
The Basketball Panther Pit made its first appearance this year at the boys' varsity game against Crespi on Nov. 18. They wore blue to support the victims of the Saugus High School shooting which occurred four days before.
"We shout out the Panther Pit through three different social medias. We usually do Snapchat, Instagram and Twitter. We like to try to involve other students so we like to make interactive polls," Jackson Calderwood, senior and Panther Pit leader, said. He is taking on the responsibility of leading the Pit along with Aidan Jimenez, Abbey Scott, Aidan Bute and Bradley Magnussen, all seniors.
"The fact that we had like a lot of hype around our football games (is why) we were able to carry that over into the basketball season to make it a better turnout than last year," Calderwood said. At its peak, there were 68 students seated at the Basketball Panther Pit on Nov. 18.
"I've been around a bunch of different high schools and when the students come out to the games and support the teams, it can make a ton of difference and especially in a close game," Steve Lepire, principal of NPHS, said. Seeing this year's success with the Football Panther Pit and tailgates, he has a proposal for the Basketball Panther Pit.
"We are actually talking about (how) we want to do two tailgates for basketball this year for TO and Westlake," Lepire said, "To kind of make sure everybody gets to the TO, Westlake (and) Calabasas games for the boys, and do a tailgate game for the girls as well." Although Lepire went to high school at Crespi, he cheered for the Panthers that night too.
"It's great to have the support from all of our fans and all of the friends that are out there helping us, and it's great just having extra energy for us to keep playing," Matthew Smith, senior and boys varsity team captain said. The Pit's cheers included "Defense," "You can't do that," and various names of team players including Smith, who scored a three pointer within 30 seconds of being put on the court.
"Although we didn't come out with a win we got better," Smith said. "And I think we can take some of the things we did wrong and better ourselves for the future games that we have."