Panther wrestlers grapple to gold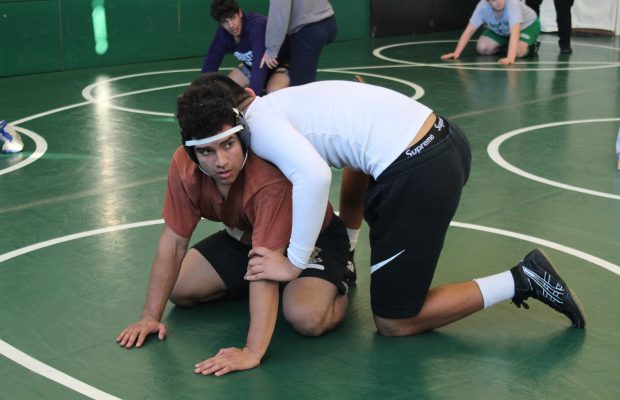 As the wrestling season comes to a close, Newbury Park walks away with the title of Marmonte League Champions. Now, the Panthers have time to reflect on the season and what they accomplished.
After defeating Thousand Oaks by 12 points in a 43-31 victory on Jan. 19, the Panthers were able to capture the Marmonte League title, their second title in a row.
"This is the second year in a row in which we are league champions, so back to back league champions, and it's just a testament to their hard work, setting a goal, and working toward that goal as a team to achieve it," Chris Kilbane, coach, said. "We competed in CIF team duals and we made it to the semifinals which is the farthest any Newbury Park team has advanced to."
Kilbane has been coaching the team for the past few years, and is extremely happy with the team's progress and how they reached their goals.
While the wrestling season was quite tough, Kasra Memarzia, junior, was proud of his personal accomplishments.
"My goal was to make it through the season, and see if I would like it enough to do it again. I also wanted to have a positive win to loss ratio, and I achieved that," Memarzia said.
Memarzia also believes that the wrestling season has helped him build on his teamwork and leadership skills.
"To see leadership in another sport and another group, it changes the way I can help others as well as showing work ethic and commitment," Memarzia said.
While some wrestlers mainly enjoy the leadership of the sport, other wrestlers, such as Urias Molina Merlo, senior, participate for a different purpose.
"It's honestly an interesting, complex and trying sport where your strength is tested a great deal and the bonds made with teammates run deep," Merlo said. "I'm very proud of the team, both JV and Varsity."
Merlo also played his part in the team's title this season, pinning several opponents across a variety of teams. He also believes that wrestling has helped his character develop.
"As a person I think wrestling has made me a lot more humble. You realize that there are people who are better and know a lot more than you do, coaches being a prime example, but also people that you compete against in wrestling," Merlo said, "Wrestling has also made me a lot more disciplined, it makes you come to the realization that things are never given. Like Tom Brands said, 'You don't get what you deserve, you get what you earn.'"