Paralympic athletes continue to inspire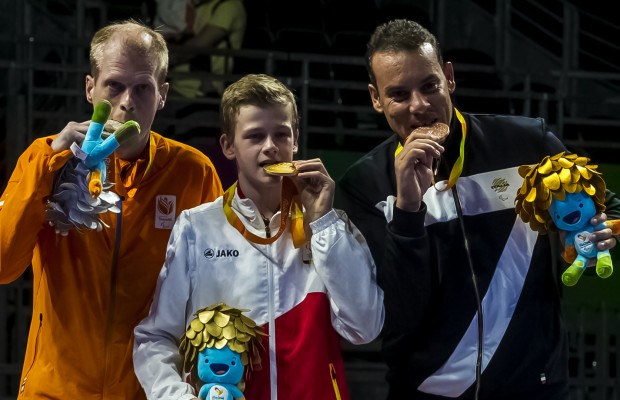 Following the Olympics, on Sept. 7-18, Paralympic athletes displayed their talents in Rio de Janeiro during the 2016 Summer Paralympic Games. With over 4,359 athletes competing in this year's Games, it is indisputable that despite the athletes disabilities, they can accomplish anything.
This years events included: sitting volleyball, wheelchair rugby, wheelchair fencing, canoe sprint, and many more.
Team USA acquired their first Women's Sitting Volleyball gold medal on Sept. 17 during their game against China.
Monique Burkland, member of teams USA's Women's Sitting Volleyball team, voiced her opinion on the victory saying, "We've worked hard the past four years for this and the outcome just shows how hard we worked." Later adding, "We just went point by point. We know they don't give up and always come back. We've been in that position before where they've come back and won, so we knew we had to keep going at it," as reported by Team USA.
 Head coach of the 2016 U.S. Paralympic Triathlon Team, Mark Sortino, disclosed his excitement for the new team in an interview with Team USA saying, "It's a great opportunity to be a part of the debut of paratriathlon in the Paralympic Games, as well as Team USA's powerful and energetic team. We've got a great group and are excited to race!"
Abdellatif Baka, visually impaired 1500m runner, was an athlete to watch as he won big in this year's Games finishing the race with a record breaking time of three minutes and 48.29 seconds, taking home the gold.
Had Baka competed in the 2016 Summer Olympic Games he would have still won the gold as he finished 1.7 seconds faster than gold medalist Matthew Centrowitz.
Later when interviewed, Baka stated, "It wasn't easy for me to get this gold medal. I've been working one or two years non-stop and it's been very, very hard for me.", as reputed by RIO 2016.
As the Paralympic Games came to a close, China finished with a medal count of 239, Great Britain came in second with a total of 147, and the United States finished in fourth place with 115.
The closing ceremony also included a tribute to Iranian cyclist, Bahman Golbarnezhad, who passed away after a fatal crash during the men's road race.
When looking back on his performance at the Paralympic games, Jonnie Peacock, English sprint runner proclaimed, "I lost my leg at age five… Now I'm 1.9 seconds behind Usain Bolt."