Performances raise awareness for mental illness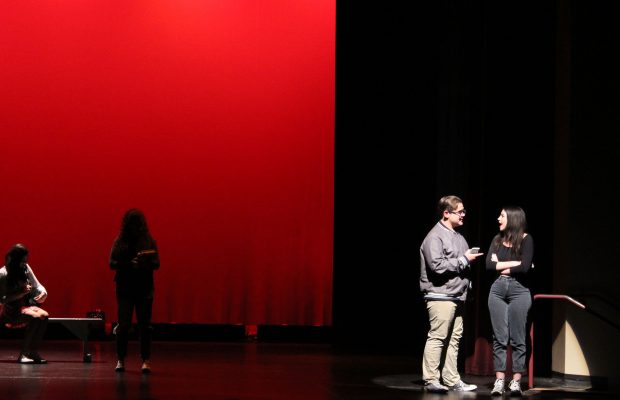 Lights, camera, recovery. The Newbury Park High School Theatre Department hosted an event in the Performing Arts Center (PAC) on Oct. 21 in conjunction with Ventura County's National Alliance on Mental Illness (NAMI) to help raise awareness for a variety of mental illnesses; such as depression, anxiety, eating disorders, suffering body image, exclusion and isolation, as well as family issues.
This performance was hosted by stand-up comedian Cathy Ladman, who has been featured multiple times on "The Tonight Show," "The Late Show with Craig Ferguson" and twice on Johnny Carson's "Tonight Show Anniversary." Ladman opened the show by revealing that she had been anorexic for 42 years, then going on to give a brief introduction to her story and journey of anorexia.
In the process of bringing mental disorders to light, nine students from the NPHS Theatre Department put on a quick performance of the one-act "Selfie." Originally a play by Bradley Hayward, the story follows a group of high school seniors, from all different backgrounds, environments and states of mind, and all of the hardships that most teenagers face.
The school performance starred the following students: Jillian Cotone, senior, as Kaitlin; Craig Hastings, junior, as Sam; Allison Martinez, junior, as Laura; Megan Morales, senior, as Nicole; Max Oliver, senior, as Tyler; Rory Smith, senior, as Jessie; Noah Varav, senior, as Zach; and Red Weiss, senior, as Morgan. Each of these characters were going through a specific hardship that affected their overall happiness; such as insolation, body image, and social acceptance.
Directed by Kylie Vincent, senior, the show ended with a hard round of applause and a standing ovation.
"(The show is) really powerful. My favorite part about watching them through this process was just their growth… because a lot of them have channeled things that we haven't gotten to see them do before on the Newbury Park High School stage," Vincent said.
The universal issues that were covered in the one-act were situations the whole cast found would be extremely relatable to high schoolers and very personal to the cast as well. Not only were the portrayals of each individual character a highly emotional experience, just the script in itself was equally powerful for the actors and directors.
"The first couple times I read through it, I honestly started tearing up," Morales said.
Because of the depth and internal movement that the performance pulled out of each actor, it left many of them in a more understanding and accepting state.
"Selfie," which was personal and close to heart for everyone involved, helped to not only bring awareness to the prevalent cases of mental illnesses, but also to raise funds for NAMI and their recovery programs.
"I think that I've become (a) better person, and more of a understanding person because of the subject matter of the show," Martinez said.