Q&A with the School Board Candidates: Angie Simpson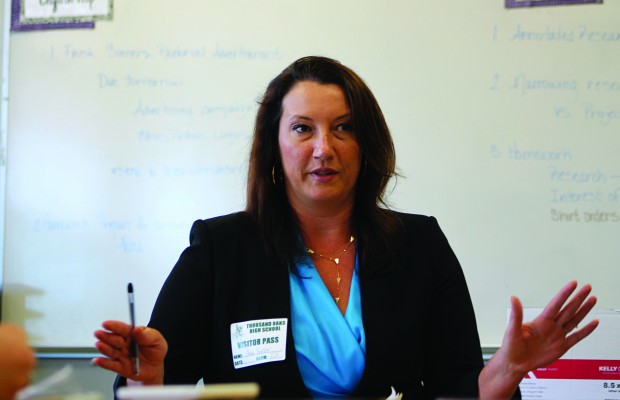 What experiences have prepared you to be on the school board?
Starting with being a coach here at Thousand Oaks High School and also a teacher, I've had a passion for leadership since I was in high school and was involved in student organizations, and I am also really involved in our local community: I serve as president of our village homeowners' association, which is not the most popular title, but I do it because I wanted to take the lead on a million dollar pool renovation. So that's a really big undertaking, and that's one of the local things I started doing a few years ago. And then I also had just been interested in local politics, because I love the Acorn and so I've always read up on city council and school board issues, and i'm out there so I know a lot of the other elected officials. I've gotten to know Claudia del Bolivina and she encouraged me to get more involved, so I'm appointed as her traffic and safety commissioner serving for the city of Thousand Oaks. I've been doing that since 2015 and it's just been a nice exposure to the Brown Act and understanding the complexities behind local government. It's been a great experience getting to listen to community members and solving problems until it's your neighborhood or your backyard. It may seem so distant, but people are really emotional when it comes to their backyard, and making the ideal decisions for the greater good is something that you have to balance in these types of decisions. How I got involved thinking strategically about this race was just kind of by accident. Because I was the president of village homes, I got a call the night before they were going to put the Carden Conejo School as option 1 to reconfigure the Conejo Valley Learning Center and terminate the lease of that elementary school that had been in our neighborhood for 35 years. I was shocked and just listened but basically because I was president of our homeowners' association, they reached out. I had built an infrastructure of community members that were really involved and they were all aligned and mobilized, so we were able to get to the meeting and create a voice and activism and get our side of the story conveyed to the school board. So that was really my first experience as what they call an activist and people were referring to me as an activist. I realized I have a lot of passion for our community, I love helping and listening to all the different concerns, and being aware of the culture on the board as a community member when I watched how (several of the board members) handled the concerned citizens that were speaking. Just that there wasn't more thorough preliminary work before the school district was making such a big decision. I got engaged to say I would be better in that role than the people that are doing it now. And I vow that I will treat citizens, students, parents, teachers, with anything but respect and compassion and empathy while they're up there speaking. And that's just something that i didn't see out of our board members, a genuine caring, and so that's what ignited my fire to say "this is the time." I have this group of people behind me within my neighborhood because they just executed this project, and I have background in education: I actually just graduated from USC with my masters in health and administration, so I'm a policy junkie. I love health care policy, and the challenges within health care delivery are the same with education; they overlap really well. So I feel like this position, capitalizes with all my passion and interests and i'm willing to it 150% every day.
As a school board candidate, what are your main concerns for the school district?
Well, right now the hot issue–I'm sure you're all hearing about it–is the placement of the continuation high school. That is a real tough predicament that we're in. I have to believe that if I was on the board that we wouldn't be in this pickle, but we are. 
So, what's the best strategy for the kids moving forward and the community?
Weighing the financial impact of the moves and understanding the long term vision of our school district and where it's going. My position on the continuation high school at this time is that the school within a school option would be a sensible financial approach and also progressive in eliminating misconceptions and bias and stigma to continuation students. So that's one of my issues. And I'm also really interested in the budget. Our conejo valley operating budget total between all the different programs is 265 million annually, which is a lot of money. And 90 percent of the resources go to teacher salaries, which is completely understandable but we're going to be faced with financial challenges and I want to make sure that I leverage my strengths in business as well as project and financial management and bring that skill set to the board.
What's your opinion on the recent vote to include the assembly  in our schools?   
I am a woman of science. I work for Amgen, I've worked in the pharmaceutical sector for over ten years, and I believe in clinical outcomes-based sex education being delivered by trained and trusted teachers of our school district. So, I support sex education and the modifications to the curriculum, because it's the world that you and I are all living in, and it may not have been the same when I was your age, but it is our reality now, and STDs are on the rise in Ventura County–specifically you can look it up on Ventura County Health Department's website. But (and you'll have to validate this fact), girls ages 18-22 or 15-22 is significantly increasing year over year, so I hope this new program can bend the curve back down, because those infections could be prevented, with education. Let me also add that I do think it's important that parents have notification, and that we respect parents and families. With proper notification, everybody's comfortable, and we could provide the best possible outcomes for our students and families.
How do you feel about the transgender students using the bathroom of the gender they identify with?
I definitely support privacy, and I understand that there's concerns about privacy on both sides of the argument. I like that this district has made an effort–from what I hear; I haven't been to see it–on making more privacy in the bathrooms, so I think that that's a step in the right direction. Nobody likes to change in front of each other anyways, that was a horrible torturous time for me in high school. I also support gender choice. I think that it's between the families, the children, and I know that the population is at risk anyways for increased suicide rates. It's a very small population, so I think that the district is addressing the privacy issue. 
How would you promote a healthier lifestyle in schools, both physically, and mentally, and emotionally?
I think that the first thing that comes to mind for me is just improving internet safety and reducing tension with social media harassment or bullying. I think that that's gotta be something that's really complex that I didn't have to deal with as a teenager or in college, so I think that that's something we need to teach our students, how to navigate it safely, and also just with the risk of predators with social media, and being smart with texting or tweeting from parties. I had attended the reality party, and I honestly hadn't considered the scenarios they were talking about with the dangers involved with social media at parties. I think it's just increasing that awareness and having open dialogues with families, to know what's really happening with kids online. 
What do you think about the increased use of technology in our classrooms, and how would you provide for students who don't necessarily have access to a lot of technology at home?
That's definitely a challenge. There's disparities across our district as it is with technology being available, and a lot of the technology is funded by parents and PTA, so I would like to see that burden be lifted from individual parents and PTAs and more unified across the district. We definitely have an influx of technology; we are going to need to have an increased headcount of IT support, because as a teacher, one of the things that I've heard is just that it's very frustrating if you are in the middle of a lesson and experience a technology problem–you can't execute as you had intended and so the lesson is lost. So I think that you have to think of the big picture, about if you are adding technology, can we afford to balance the needs of technology support with lesson planning, so that's one of the challenges ahead. And you mentioned making access to technology be more consistent, and I think that there are resources out there that need to be leveraged greater by the school's, partnerships with the libraries, local libraries for children that maybe don't have access, and a lot of that just goes back to education and collaboration with parents. Parents who are English second language learners, there needs to be more outreach, to make sure that their kids have the same tools that other learners have access to. 
Is there anything you would do specifically to help [English second language learners]?
I think that it has to be more than just lip service, to making sure that we are providing the best possible resources for that at-risk population. At the school board meeting, (I believe you'll have to validate this fact), but one in four children is below the poverty line in the Conejo Valley Unified District, so just don't quote me on that number, but say that it's about 25% of our student population, so that's pretty significant and surprising. I think that in order for all of our district to be successful, we need those kids to have very strong performance as well, because it seems the history of the school board has been to shut down schools in lower socioeconomic neighborhoods, and that's a concern that I have. So I definitely don't support that strategy, and I would like to see innovative partnerships with alternative learning education, coming into schools where there might be declining enrollment and partnerships, so that we don't have to force kids out of their neighborhoods, because that's such a luxury to walk to school or to have that bike ride, it is something that I think is why that school was built in that location.
Do you feel that in the district all students receive equal opportunities regardless of race or sexuality or financial situation, and how would you try to improve the enforcement of nondiscrimination? 
I think that's a very loaded question, but I love it. I think that the way I'm going to answer this, because I have experience as a classroom teacher and I am going to focus this on children with learning disabilities. For parents in our community who have higher education and know how to push and advocate for their child, their learning, their outcomes are elevated, compared to the learning outcome of of that child with the same disability who have lower socio economic background, so that is tough to identify in earlier ages in elementary school.
What do you think of the block schedule in comparison to the traditional schedule?
It definitely has its pros and cons. I have not taught in the block schedule nor have I taught a class in box schedule I am basing my insight because my sister is a teacher and she is now teaching at Agoura High School, which has the block schedule, and she teaches special ed so it's very challenging with that population to have that vast time to fill. I think for English it seems like a great structure; I would've loved to have that time because we could've got a lot done and a lot more reading and project based learning, like the collaborative projects we just didn't quite have time for on the 55 minute schedules. I think the nice part about our district is that we have choice. There's Newbury Park that has that model and parents have that option for their student, and there are traditional class schedules as well.
Are there any specific changes that you'd make to class curriculum? 
I don't know if that's the board's decision to make changes to the curriculum because our role is to really be the executive team overseeing the enterprise. So we as school board members, the number one job is to oversee the superintendent and the executive team. Really, the job is centered around financial management and financial broadcasting, however I think it's important to listen if there are concerns from parents about curriculum, and also being proactive and understanding if there's alternative programs or enhancements that can be made where we have dialogue communication with the teachers, and also just a voice of collaboration. That's one of the things I think I bring to the table, that energy to look for ways to make improvements to the curriculum, provide ideas and see what's possible 

The board deals a lot with fiscal management, so what background has prepared you for that? 
In my current job I oversee very very complex projects with managing large budgets where it's also a very regulated environment in biotech. Pharmaceutical industries are one of the most regulated, it is the most regulated industry in the world so I've been able to navigate really, really intense structure as well as executing program goals. So it really seems that with my professional background as a teacher I have a handle on what needs to happen in the classroom level, but I also have strategy and vision that I've learned from my employment that can be transcended into my role in the school board.
If you do get elected what are you looking forward to in the next few years and do you have any final thoughts?
Rule number one: roll up my sleeves and understand the budget because the budget is going to guarantee stability to students and families and teachers, and that is my priority out of the gates. Learn it and own it and look for ways and identify resources to maximize outcomes for students.