Reflecting on a Panther legend: Rhoda Brown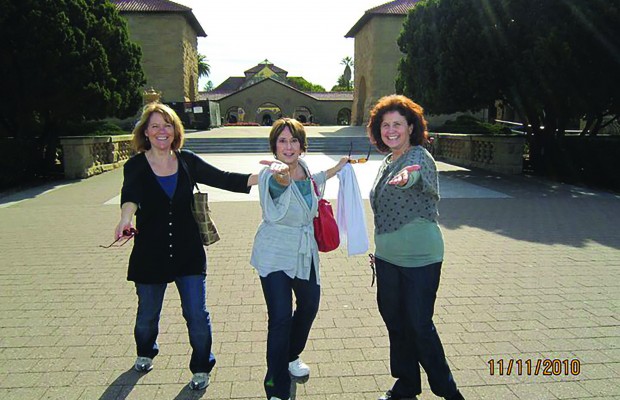 The world lost a bright and powerful soul on Feb. 26, 2017 when Rhoda Brown, a dedicated Panther educator, lost her seven-month battle to a rare neurodegenerative disease. She brought passion, creativity and optimism to everyone who was lucky enough to know her.
Born in 1944, Brown grew up in New York City, NY. In a time where sexism was common, Brown tested the limits of cultural norms in society.
Gillian Brown, Brown's eldest daughter, recalls a story about her mother's time in high school. In the 1950s, Brown was on her high school cheerleading team and during a snowstorm, "she got sent home from school for wearing jeans under her cheerleading skirt because girls weren't allowed to wear jeans," Gillian said.
Brown earned a B.A. in Queens College in New York City in 1965. She then obtained a Master of Speech Pathology from the same university in 1970. Her love for drama, theater and musicals all contributed to her decision to become an English teacher.  Additionally, she "was convinced that literature spoke to our common humanity," Gillian said.
Shortly after graduating college, Brown married her husband, Bob Brown, whom she fell in love with when she was 15-years-old. Together they had two daughters, Gillian and Danielle.
Brown and her family moved to Newbury Park at the end of 1978. Even though her two daughters attended Thousand Oaks High School, Brown began working at NPHS where she remained until her retirement in 2013.
Outside of her job, Brown enjoyed hiking, biking, yoga and ballet. "We used to joke that she became an athlete in her 50s with my dad," Gillian laughed. In the early 1970s, Brown was probably one of the first women to work out at the gym, which was uncommon then.
Brown was politically engaged and supported women's rights. "She always took us to the voting polling places," Gillian said. "It was something we were very involved with in our household."
Christine Hodson, English teacher, remembers Brown's love for theater. "I always got a kick out of her because she was one of the few teachers that would perform in plays in the PAC."
Although she couldn't remember which play it was, "there was some real salty humor in the play and she executed it just beautifully and got away with it," Hodson laughed. "Of course I can't repeat the joke."
Memories
We may lose the people we love, but memories from those who cherish them will never be lost. This holds true for the beloved Brown, who lives on in the stories of her friends, family and former students.
Gillian remembers seeing her mother's Newbury Park Panther pride in the form of spirit wear. "We used to laugh," Gillian recalls. "On Fridays, she used to get dressed up in her black and gold."
Alana Bond, English teacher, was a close friend of Brown's after meeting her six years ago. "I considered her to be like a second mother," Bond said. "She made everyone feel so special and had a unique relationship with everyone."
Bond remembers a time when she was staying over at Brown's house for the night a little over a year ago.  After Brown fell asleep, Bond went outside through a door that immediately locked behind her. Bond was barefoot, without her phone, and Brown wasn't answering the doorbell. When Brown finally came to the door, Bond profusely apologized, saying, "The whole point of this was to not disturb you, and now here you are, I've woken you up, it's midnight-" before getting cut off by the sound of Brown's hysterical laughter. Through her laughs, Brown smiled as she told Bond, "Wow, it's been a long time since I've dealt with teenager behavior."
Michelle Saremi, English teacher, grew close to Brown after meeting her 10 years ago. Saremi remembers how Brown was always able to push her to try new things. Brown "never really cared about what anyone thought and that was a great attitude to have, especially when you're trying something out."
"She was my workout buddy and she was hilarious because she would always get me to try classes that I would never think of trying," Saremi said. At a spin class, Brown fell off the bike, and she "literally went flying, gets up and goes, 'Ha, well that hurt!' and gets back on the bike while laughing and snorting hysterically."  
Janet Conner, English teacher, met Brown through the interview process when she applied for a teaching job at NPHS in April, 2001. Conner remembers a trip to Belfast, Ireland, where Brown was hit by a bus. Brown learned that she had broken her kneecap, which required her to fly home for surgery. However, that night they had tickets to see "Rodrigo y Gabriela" in Dublin. Instead of staying at the hotel and resting, Brown accompanied Conner to the show. "We hailed a taxi and enjoyed the concert – broken bones and all. Never say never when you are Rhoda Brown," Conner finished.
Hodson remembers Brown for her energy, passion and wit. "She just had this gumption and this spirit about her. People would describe a person like her as a pistol."
Hodson first became acquainted with Brown through a collaborative project for the district in 2000. When Hodson received her cancer diagnosis eight years ago, Brown was the first person she called. "She was one of the few people I let see me as I was going through treatment (and) what I looked like going through treatment," Hodson said.
Legacy
Everyone who spoke of their love for Brown also felt she will be remembered for her passion for teaching and caring nature towards her students. Former student, Daryl Hitt, said, "It was just the time that she would take to really get to know you as an individual, and find out what buttons she could push to make you do your best" that really made an impact on her students' lives.
Gillian echoed this sentiment. While reading letters her mother had received from former students over the years, Gillian noticed that students felt that though Brown was demanding, she truly cared about them and enjoyed being with them. Gillian reaffirms their analysis, reminiscing about the love and excitement her mother had for her students.
Hodson's memories of Brown as a teacher follow the same theme as Gillian's. Hodson points out Brown's "gift (for) seeing the essence of a person and responding to that." She hopes Brown will be remembered for her warmth, compassion and ability to connect with even the most difficult of students.
Brown served as a role model for many of the younger teachers in the department who looked up to her as a second mother-figure and a mentor in their lives. Many of the teachers were inspired by her positivity and attitude towards her students. Bond sums up Brown's philosophy as simply, "Just care about the kids and everything else will fall into place, I think that was a Rhoda-ism if you will."
Conner vividly remembers Brown's "laugh, her New York accent, her Yiddish expressions." She hopes Brown's love and commitment to her family, friends, and students will be carried in everyone's memories.
Brown's mentoring extended passed teaching and to parenting as well. Saremi said, "A lot of the times when I'm dealing with odd things that come up as a mom, I ask myself, 'What would Rhoda do?'" Brown often reminded Saremi that "there's no right way in motherhood."
Joshua Eby, principal, explained the school's plans to build a bench commemorating Brown. The bench will be located near other school memorials in front of the bell. Eby remembers Brown as an institution in both the English Department, which he credits her for improving, and the district itself. "We kind of talked to her like she was Mama Brown, she was like the mother hen of the English department," Eby reminisced.
Her impact on the district and the community as a whole is profound and will live on through those who survive her. Bond believes that the best way to remember her is for the community to keep her spirit alive through her stories because "she just cared about everyone in this unique way. I think we can keep that going by caring for each other and remembering her."