Richard Kick clicks and computes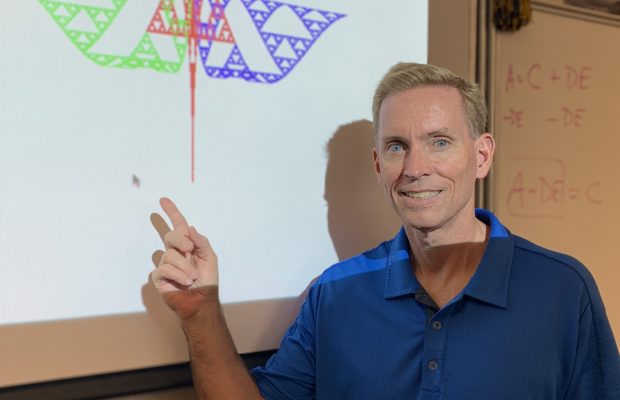 The internet is an essential tool to today's society, yet very few know what it truly is. However, with a smile on his face and a pep in his step, one teacher on campus helps young techies navigate the complex realm of code. Richard Kick is his name and computer science is his game.
Kick may be known as the friendly, Tesla-driving, technology fanatic of Newbury Park High School, but there is much more to his life than what is seen on the surface. 
It all started in Kankakee, Illinois, where Kick was born and raised. "It was at one point, national study ranked the worst place to live in the United States," Kick said. "That was all I knew. It was normal, and then after I left it, I found out it was not a normal place. It was pretty bad."
Kick began his teaching career as early as freshman year when he realized he could use his acquired knowledge and knack for teaching to help others. "I taught algebra, the teacher taught geometry, and I knew from the beginning of freshman year that I was going to love teaching," Kick said. 
This early dip into teaching was interrupted as Kick began college at the University of Illinois at Urbana-Champaign and married his wife during his junior year of college. 
"In eighth grade, we were going steady, and then we broke up and didn't really talk much until senior (year) in high school, and then we started dating again. We were very serious and knew by the time we were going to college, we would get married," Kick said.
After acquiring his bachelor's degree in Illinois, Kick moved to the Chicago suburbs where he taught math to high school students, coached various sports teams and started his family. 
"(My) two children were with me while I was coaching and filming basketball games," Kick said. "They would be in the gym with me running around and jumping on all the mats and kind of grew up in a school environment."
Kick's daughter attended UC Berkeley and is now a lawyer while his younger son is a software engineer and UCLA graduate. "My daughter was very much into chorus, and very much into math team and very much into academics, and my son was very much into sports, wrestling, (and) football," Kick said.
Upon his arrival as a math and computer science teacher at NPHS, Kick serves as a role model to his students. "What I admire most about Mr. Kick is his passion; his passion for his career, his accomplishments, and his students," Stephen Liu, senior, said. Liu is currently taking AP Computer Science A after having taken AP Computer Science Principles the previous year. 
Kick's teaching style has been proven to stand out against other teachers due to his frequent hands-on approach. "I think Mr. Kick is successful because he has a unique teaching style," Taylor Grimes, senior, said. "He teaches us so that we understand and are not simply copying everything down." This is Grimes' first year taking a computer science class, and he had joined the class with little to no prior knowledge of the subject.
After teaching at four high schools and three colleges, Kick joined the NPHS staff in 2007. "13 years is the longest I've ever taught (on one campus), so obviously, this has been a very enjoyable place for me," Kick said.