Ruth Bader Ginsburg leaves historic mark on society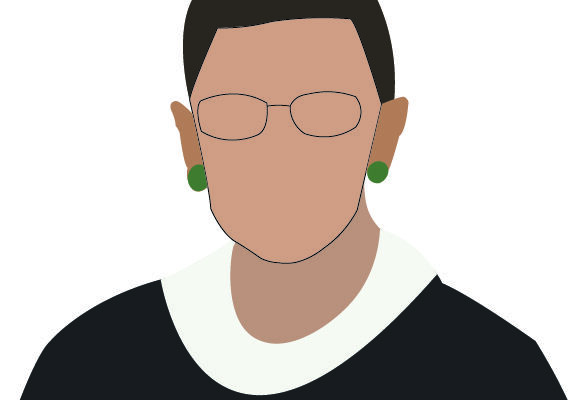 Supreme Court Justice Ruth Bader Ginsburg, known for championing women's rights and fighting for abortion access across the United States, passed away on Sept. 18 at the age of 87. 
Ginsburg, nominated to the court by President Bill Cinton in 1993, was elected by the Senate following the retirement of Justice Byron White. She was the second woman to ever serve on the Supreme Court, and held a strong belief that she would not be the last. 
Voting Rights
Ginsburg made her support of voting rights clear by writing the dissent in the 2013 case "Shelby County v. Holder," which marked two provisions in the Voting Rights Act of 1965 that require preclearance in order for the justices to weigh their opinions before changing voting practices as unconstitutional. "Throwing out preclearance when it has worked and is continuing to work to stop discriminatory changes is like throwing away your umbrella in a rainstorm because you are not getting wet," Ginsburg said.
Women's rights
Before working on the Supreme Court, Ginsburg co-founded the American Civil Liberties Union's (ACLU) Women's Rights Project. After becoming a Justice, she continued to fight for the rights and equality for women from the court. In the case "Ledbetter v. Goodyear Tire & Rubber Co.," Lilly Ledbetter had filed a suit against her company when Ledbetter noticed that she was being paid thousands less than her male peers. Ginsburg voted against the grain, arguing in favor of Ledbetter. However, the final verdict of 5-4 ruled that Ledbetter did not file the claim in a "more reasonable time frame," with Justice Ginsburg in the minority. 
Her dissent brought awareness to many people about how this issue is seen as unjust in people's eyes. In 2009, Barack Obama signed the Lilly Ledbetter Fair Pay Act which equalized pay for men and women.
Abortion rights
Ginsburg was a passionate supporter of Roe v. Wade, the ruling that granted women access to legal abortions in the United States. "It is essential to women's equality with man that she be the decisionmaker, that her choice be controlling," Ginsburg said on the topic of abortion. "If you impose restraints that impede her choice, you are disadvantaging her because of her sex." 
Ginsburg's Life
In the past two decades, Ginsburg has dealt with numerous health problems, namely colon, lung and pancreatic cancer. The official cause of her passing was complications from pancreatic cancer.
Ginsburg's planned replacement, nominee Amy Coney Barrett, is a pro-life lawyer nominated by president Donald Trump, eight days after Ginsburg's death. If confirmed, Barrett would be the fifth woman to serve on the Supreme Court and put the court in a 6-3 conservative majority. 
In her dying letter to her granddaughter, Ginsburg expressed her last request: "My most fervent wish is that I will not be replaced until a new president is installed."