Sandy Hook Promise needs to address gun violence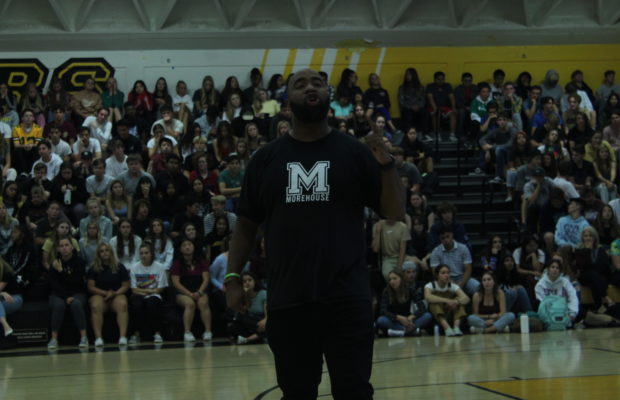 The Sandy Hook Promise (SHP) has been making an impact on schools across the nation. Named after the 2012 elementary school shooting, the organization aims to prevent gun violence in schools by discussing social issues that affect today's students. Over the past month, SHP has been visiting CVUSD schools, giving an assembly at NPHS on Sept. 26. Since assemblies are their main tactic for reaching students, I expected it to reach the high caliber of SHP's goal. Unfortunately, the assembly fell short, undermining the purpose of SHP as an organization.
The program was titled "Start with Hello" and focused on inclusivity and creating a connected student body. While all of this is important, there was no mention of gun violence. The majority of the presentation was focused on reaching out to outcast students, but the connection between this and school shootings was not clearly established. It seemed as though SHP is assuming that lonely students are the cause of all violence in schools.
Even if this was their intention, a school assembly is not the perfect medium for getting the message out. If students are excited about an assembly, it's most likely because their class time is considerably reduced. Unfortunately, many students used the assembly as a free period, as seen by the number of people talking to their peers or on their phones instead of giving the speaker respect.
In addition to giving assemblies on positive school cultures, SHP should be encouraging students to become involved in their local and national governments. Providing resources for voter registration and hosting community forums discussing gun violence inspires passionate students to use their voices for change. As seen by the March for Our Lives protest, student-led movements are powerful and can have an impact on lawmakers, much more so than loosely focused school assemblies that places the responsibility of preventing gun violence on students and solely inclusivity.
SHP describes itself as a "moderate, above-the-politics organization" trying to address the gun violence epidemic in America. But in order to effectively do this, SHP needs to be directly involved in politics. The organization needs to devote more of its time to advocating for tangible solutions to gun violence.