School board censures Mike Dunn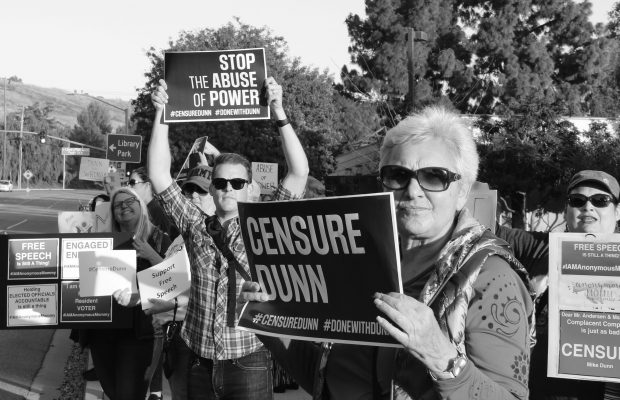 The room was packed as the school board meeting commenced. Concerned citizens carried signs, wore purple t-shirts and lined up in front of the district office three hours before the meeting even began. To avoid an overcrowded meeting room that could pose a safety hazard, the district office handed out tickets to the first 160 attendees.
At the most recent CVUSD board meeting on Feb. 6, there was only one empty chair. That belonged to board member Mike Dunn, who did not attend the meeting despite being the subject of the controversy.
"My wife has asked me not to attend the board meeting. The attacks against me have crossed the line. The attacks have hurt my wife and me. That said, I should have ignored the attacks and not responded," Dunn said in his statement that John Andersen, school board president read to the audience.
The controversy involved himself, Jessica Weihe and Weihe's employer, Scott Harris. Weihe is responsible for the "Anonymous Mommy" blog, which is known for its liberal and outspoken opinions. Conservative members of the school board, especially with recent controversies surrounding the opt-out policy, have often been the target of Weihe's criticism.
In response to Weihe's blog posts and comments, Dunn emailed Harris, accusing Weihe of slander.
"Every time she slanders or libels the school district or a school board member during public comments at a board meeting, I am going to respond that Jessica works for Mustang Marketing and that you support her opinions," Dunn's email read. Once Weihe published the email exchange on her blog, she and several other community members accused Dunn of limiting Weihe's right to free speech.
As a result, board member Dr. Betsy Connolly proposed Item 6.1 Approval of Resolution Regarding Censure of Board Member Mike Dunn. By censuring Dunn, the board would publicly disapprove of Dunn's threats to Weihe. This lead to an influx of community members who agreed to attend the meeting in support of the censure, as well as community members in support of Dunn.
Many chose to speak about the censure and opt-out policy during public comments. "I am here to give my sincere thanks to the board members who voted for this new amended literature policy," Dr. Amy Chen, a supporter of the opt-out policy said.
Among the community members in attendance were concerned students. Still wearing his basketball uniform, Nate Bymel, sophomore, came straight from his game for the opportunity to address the board.
"Tonight, members of the school board, I ask you: has that which we have put into leadership truly promoted our greater integrity? Have we, under this leadership, supported that which we have wanted to promote within our youth? Have we upheld every moral fabric that we said we would? And if you answer no to these questions, then I urge you, cease this leadership," Bymel said during his two minutes of comment time.
Other Panthers listened as their classmate spoke. Scott Nagatoshi, junior, was watching from the hallway since there were no seats available. Nagatoshi is part of Youth and Government, and he watched his adviser, Kyle Rohrback, speak in favor of the censure.
"I think being involved in local governments, whether in your school board or at city hall, is super important, especially for the youth, because it helps to show that the youth isn't ignorant. We are educated on the issues that face our communities, and we have a power to use our voices to make change in our communities," Nagatoshi said.
Students of all grades were in attendance. For Gus Gress, freshman, this was the first time he had attended a school board meeting. "What (Mike Dunn) did was so out of place, and he's there to serve the school board and pay attention to issues facing CVUSD. He shouldn't have contacted the employer of this person who was just standing up for the rights of our students and parents here in the district," Gress said.
Of the NPHS students that were present at the meeting, all were in support of the censure.
After statements from all of the present board members, the resolution passed 4-0, officially demonstrating the board's disapproval of Dunn.
"I am here to tell you, that there is only one way, before Nov. 6, to take care of this problem, and that's with my fellow board members, Mr. Andersen and Mrs. Everett," Connolly said during her statement on the censuring of Dunn. "When they let him misbehave without comment, when they allow him to orchestrate bizarre reordering of our agendas to promote their political aims, the process and protocols and control over the board falls apart."
Dunn declined to comment.