School Board Trustee attends God-Speak event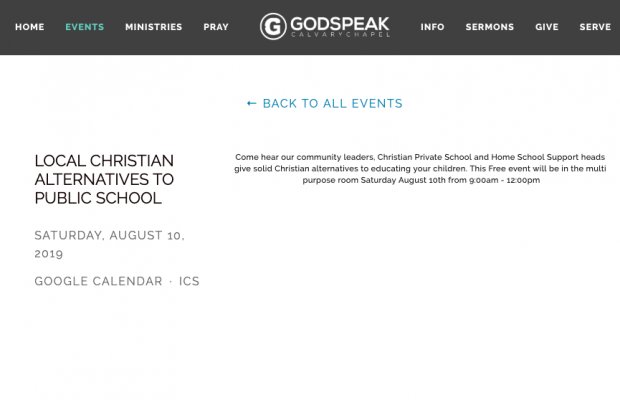 On Saturday, Aug. 10, CVUSD school board trustee Sandee Everett spoke at the Godspeak Calvary Chapel about "local Christian alternatives to public school," as stated in an advertisement for the event.
The event flier, which has since been removed from the webpage, stated that public schools supported a "progressive anti-god, anti-American pagan agenda," and pointed to private schools such as Living Oaks Middle School Academic Alliance (LOMSAA) and homeschooling options. The forum was held by the Godspeak Calvary Chapel who have expressed opposition to the state framework for sex education guidelines taught in health class.
Former school board trustee Mike Dunn also spoke at the event held at Mayor/Pastor Rob McCoy's church. Current school board trustee Jenny Fitzgerald attended the event, and said she is concerned, "Given that this was not an event for parents to really learn about different options and given the advertised purpose of the event, what actually was said at the event (is) sending a message that (Everett is) not advocating for our district schools or students."
Everett's presentation was uploaded to youtube, and in her presentation she explained her position by first saying her opinions did not reflect those of the board, later saying, "There are far-left activists groups that consider the classroom as the Sunday school for the far-left, they want to force teachers to pass along their non-theistic religious dogma to the next generation. . . Transgender students are wonderful kids, they are loving kind just like every kid; every child deserves to be loved and respected."
Everett read an excerpt from an email from fellow Trustee Bill Gorback where he wrote, "(I) have always stood for a presentation that states that gender is not binary but individual and not placing judgment in any way," where Everett responded by saying, "so in defiance of science he states that gender is non-binary."
In front of a slide that stated "Acorn is Blatantly Biased on this issue," Everett said that transgender bullying is, "so rare it is not even measured by the California healthy kids survey".
Everett ended by saying, "Adopting a CDE (California Department of Education) recommended curriculum is probably not the answer for our community and that is what I will be fighting for as a board member."
The speakers used slide presentations to present their message and information, to which Fitzgerald pointed out several errors, specifically about LGBTQ students. 
"It delegitimized LGBTQ students and their struggles… there's a plethora of claims that were made and you can see them in the slides that were very offensive," Fitzgerald said.
On Facebook, Fitzgerald posted many different slides from the presentation, one of which stated, "In Germany during the late 1930's, the STATE used the public schools to promote the discrimination against the Jews…Today the target in America's public schools are Christians." In response Fitzgerald stated, "I don't even have words for it; it was unbelievable and you know our public schools serve students of all different religious backgrounds and students of no religious backgrounds." 
The school board meeting on Tuesday, August 20, had two discussion items on the agenda for the censoring of Everett and Fitzgerald, both raised by community members. Everett asked multiple times during the meeting to show the powerpoint presentation used at the event, but was denied by board president Betsy Connolly, citing time constraints. Multiple public comments, including one by former board president John Anderson, called for the presentation to be shown, Anderson saying to the board that "her participation in that event was none of your business." The board discussed the censure for Everett but determined they did not have time to fully cover the discussion for Fitzgerald, ending their board meeting a little before 1:00 AM. 
Everett did not respond to the Prowler's request for an interview.