Sean Nicholson scooters his way to success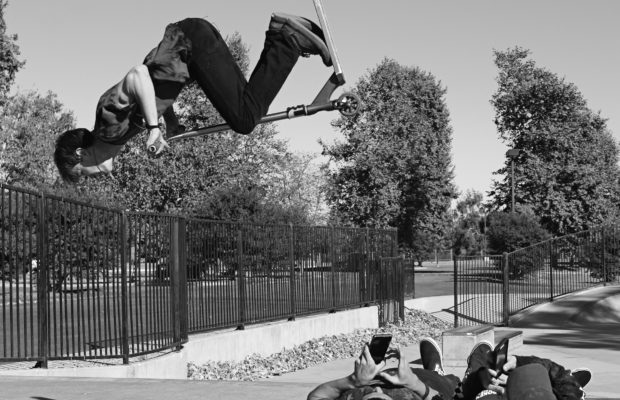 As he scooters around the skate park at borchard park, he builds up more and more speed until finally he arrives at the top of the ramp and boom! He does a flip over two of his friends and gets a perfect landing. His friends and the videographer go wild. Sean Nicholson, senior, has a passion for scootering and amazes all his friends will his talent.
Nicholson began his scootering career when he was in sixth grade. He practices six days a week for about one to two hours alone or four to five hours with friends.  "Well, (I) have to warm up with some easy stuff, a couple of flips to get my adrenaline going, and then it just depends on what I'm feeling like that day," Nicholson said. "Usually I just try to push myself and do something new or get better at something so that I can actually progress every time I ride."
According to his friends, Nicholson has progressed over the years by practicing, becoming more comfortable with his tricks and rapidly increasing the level of difficulty in his skills. "I just like the variety. I can put my own style on my own tricks and just do stuff that makes my riding unique to other people,"  Nicholson said.
Nicholson has also participated in several competitions and events over the years throughout California. In September, Nicholson placed first in a scooter competition at A-Town Park in Atascadero. "He used to do little events here in Newbury Park, little scooter events at Borchard and I went to I think two of them and he got second place in one of them and first in the other… He's been to other competitions in Los Angeles and Santa Barbra," Kyle Kurdelak, senior and close friend of Nicholson, said.
Although Nicholson is typically independent when practicing, his friends, like Kurdelak, are  supportive of his career. 
"Scootering at itself is very looked down upon,but athletes like Sean, they have a career, in say X-Games or Nitro Circus. I see Sean being in that," Kurdelak said. "Even when people were saying he'll never be anything it just motivated him to keep trying harder and where he is today is outstanding." 
Casto Merlo, senior, has spent a lot of time watching Sean grow in his career despite not scootering himself. "I am very impressed by Sean's scootering career and the way he has developed his skills," Merlo said."I believe his future has already started."