Senior rises to Marmonte MVP despite spinal injury
Gannon Tovey, senior, has been playing soccer for 13 years. He originally began to play for fun, however, "(as) I got older and older, and the competition got more competitive, it only increased my love for soccer," Tovey said.
Recently, Tovey was awarded with MVP of the entire Marmonte league. "When my coach told me I was awarded MVP… I had to take a moment to catch my breath, as I was completely speechless," Tovey said.
Around 18 months ago, Tovey started to feel "sharp pains in (his) low back (and) made it very hard to run around on the field."
After a certain amount of time enduring the pain, Tovey went to the doctor's to see what was going on. "(After) my MRI they informed me that I fractured my L5, which is the lowest bone of the spine, and told me I would have to take 6-9 months off from soccer and I was absolutely devastated," Tovey said. "It tore me apart having to go up to my high school coach, who I idolize so much, sobbing in tears and tell him that I wouldn't be able to play for the entire year. But, I was able to put a lot more time into school and had a great academic year last year."
His injury was due to overuse. For a long period of time, Tovey had two games a weekend and three practices a week, which "put a hindrance on (his) body and, eventually, it gave out."
Ultimately, throughout his painful, yet very rewarding journey, Tovey looks back at his high school career with a smile, being grateful for everyone who supported him.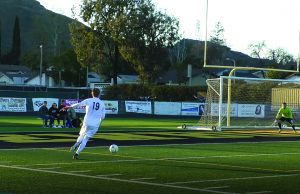 Hype it up- Tovey celebrates with his team after going up with a bicycle kick, opening their playoff run against Palos Verdes with a 1-0 lead. The game was the first of the series for the soccer team, winning 5-0. "After not playing for so long, you forget how those feelings you get on the field feel like. Getting to play under the lights at night and with a big crowd cheering you on just gave me chills down my spine," Tovey said. The crowd's excitement fueled Tovey's celebration.  Jaycen Sussman/ Prowler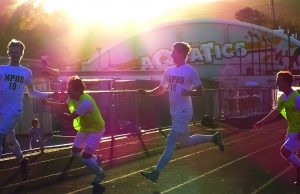 The Playmaker- Tovey sprints toward the goal to assist Cameron Leeds, senior, in a goal. The goal put their opponent Palos Verdes in a 2-0 deficit in their CIF opener. "I made the varsity soccer team as a sophomore and worked my way up to a starting position on that team that year as we placed second that year in league, and I got to play in a first round CIF game that we unfortunately lost," Tovey said. The team gathered to celebrate a one-of-a-kind goal with Tovey completing a full bicycle kick- leaping to kick the ball over his head. Jaycen Sussman/ Prowler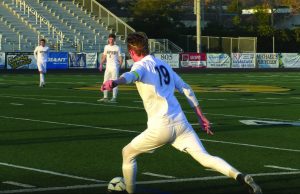 Look ahead- Tovey kicks the ball after it is knocked out of bounds to a teammate to continue their game against Palos Verdes. Once the ball is in play, teammate Enrique Guerero, senior, comes up with a header, passing the ball with his head. "My team was always super supportive of me to get back and be healthy because they believed in me and knew I was a leader they could count on day in and day out and that I would always be there for them," Tovey said. The process for Tovey to come back as a top player was not easy but with help from his teammates, it was made possible.  Jaycen Sussman/Prowler