Smoke and Ash Drives Sports Teams to Change Schedule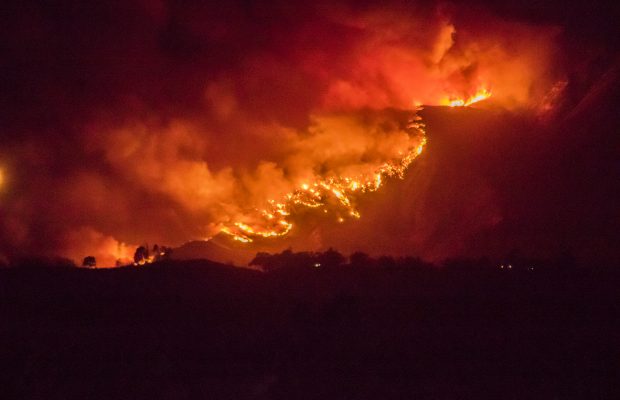 With the fires burning their way through Ventura County, Newbury Park sports teams had to change up their practices to accommodate the smoke-ridden air.
Track practice was largely influenced by the air quality, with practice locations changing to deal with the fires.
"We weren't able to run outside for a few practices," Lexi Bolanos, senior and distance runner said, "which made it difficult for our distance team because we were forced to go onto the treadmills at the gym or find other means of getting our exercise in."
For many sports teams, their competitors were also influenced by the fire. But for teams competing out of state, their opponents were not necessarily impacted.
"Our first indoor meet is actually at the University of Washington in Seattle, so those teams are not going to be affected that are traveling down there," Bolanos said. "But, I do know that our local Ventura County teams that we are going to be competing against in Marmonte League for normal spring season are going to all face the same consequences of the fire."
The goals of the track team are similar to before, according to Bolanos.
"I think we all are pretty determined and motivated, we stuck diligently with our training, so we have the same goals as before, we just had a few bumps in the road leading up to it." Bolanos said.
Water polo also faced changes in their practice schedule, when the pool's filter broke.
Over winter break the pool filter was still not fixed because, while the parts only take a day to install, (they) take a really long time to ship," Madison de Vere, senior and water polo player.
During the worst of the fire, the team spent time watching videos of plays, swimming or running on their own when air quality allowed, according to de Vere. They later ended up practicing at CLU, Camarillo High School and Thousand Oaks High School while they waited for the parts to ship.
"Our team is really dedicated to making it a good season even though we've had the filter break and that was really detrimental towards how we excel as a team," de Vere said.
The team's goals remain the same despite the change in schedule.
"One of our goals is to compete with our biggest rival which would be Oaks Christian, and to just keep our team spirit and keep up the participation," de Vere said.
Basketball had their practices cancelled for the days with the worst air quality. According to Marissa Leslie, junior and basketball player, "The coach didn't want for us to be running and inhaling that much smoke…the day we came back I could still smell (the smoke in the gym), even though the heaviest days practice was cancelled."
Despite the smoke, basketball continued with their tournament in Camarillo.
"We had a tournament down in Camarillo even though Camarillo school was cancelled due to how bad the air quality was and how close the fire was," Leslie said. "The tournament wasn't cancelled and the air quality in their gym was much, much worse than here in Newbury Park. It was incredibly smoky and some of us were coughing and lightheaded by the time we had been running back and forth for an hour in their gym."
Leslie is optimistic about the team going forward, even with the missed practices.
"We only missed a few practices and we've been having lots of preseason games to get ready, and we are looking pretty good," Leslie said.