Sneak peek in the upcoming basketball season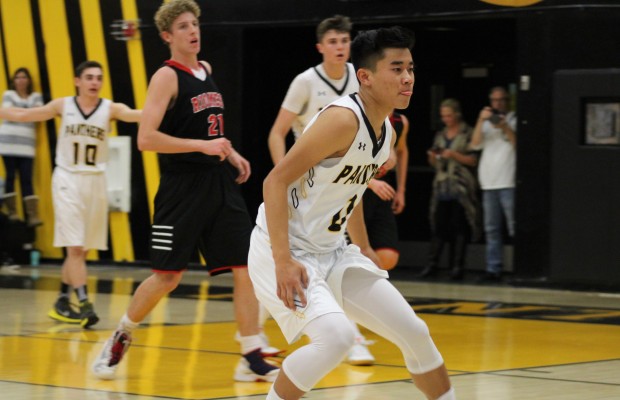 As the weather gets colder, basketball season begins. Both boys' and girls' teams have a good chance of winning the league championships and look forward to a good run in playoffs.
"We are 2-4 and off to a rough start, but we've played some pretty good competition and I believe we have a good chance to win league," Andrew Noble, senior, said.
The boys' varsity basketball team has come closer these past few games by building familiarity with each other and a strong bond among all of them.
"As a team we just have to keep growing our chemistry and trusting the offense. If we play within the sets we will be very successful," Brandon Smith, junior, said. "I think our whole team has really stepped up. We've really grown since we started playing with each other over the summer."
With many goals in mind this year, the boys' varsity basketball team's main goal is to win.
"Our main goal for the season is to win a league championship," Matt Solomon, sophomore, said.
Daniel Foldes, senior, agrees with Solomon. "Our main goal is to win league and make a run in the playoffs," he said.
Along with the boys, the girls' varsity basketball team also believes that they have a good chance for making playoffs this year. Currently, they are the defending southern region CIF champions and are still strong contenders for winning CIF again this year.
"We are rebuilding our team this season since we lost a big portion of our team this past year, so it will be interesting to see how we do in league," Simone Overbeck, sophomore, said.
Although they lost a big portion of their team last year, the team is fairly new and consists of young players this year, such as Alysandra Lacanilao, sophomore.
"She always is working hard in and out of practice. During the games she always gives it 100% and is emotionally involved," Carly Magallanes, senior, said about Lacanilao. "She brings an energy to the team that makes the rest of us do better and try harder."
As the season continues on, the girls' basketball team looks forward to bettering their skills with each game.
"We can improve on helping our team have a lot of energy through the whole game, no matter how we're doing," Lacanilao, sophomore, said.
With new players and new skill sets on both teams, each team has the potential of making it to CIF.