Soccer players affected by new Academy rule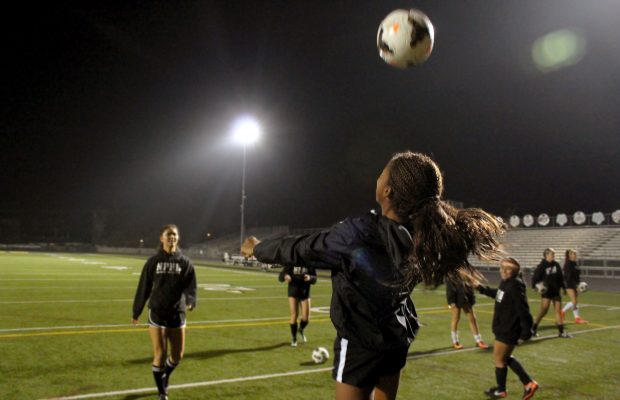 Around 30 or more girls in the Ventura County are no longer allowed to play high school soccer. Players in the U.S. Development Academy, a club soccer program, opened a new highest level for girls' soccer. Boys have always had the option to go to the Academy, whereas this is the first year the Academy is open to girls.
In the new academy, there is an increased focus on training, as well as feedback from the U.S. National Team staff. However, these players will not be able to play on high school teams due to a rule within the Academy to ensure no distractions from playing.
The girls originally played with Elite Clubs National League (ECNL) last year, which was the highest division at the time. "Since there's a new highest division, everyone had to get on the highest team," Marissa Ray, senior, said.
Ray is one of the many players affected by the switching over to a new division, and can no longer play on the high school soccer team, where she was in previous years, on varsity.
"The goal of academy is to become a professional soccer player, so they don't really want the time off to play high school, because they think that high school makes you worse and you usually are less fit," Tessa Nutley, sophomore, said.
This affects many of the high school soccer players, as they played on ECNL and moved up to the Academy. Some of the players chose to play on division two teams, which are more lenient and allows students to play on their high school teams. However, most players on the division one team were part of the varsity team's starting lineup.
Even though Newbury Park's varsity starting lineup has mostly gone to the Academy, this also affects other schools in the league. Ray remains optimistic about the season. "Hopefully this will even out the playing fields," Ray said.
Diana Flores, senior, is a player who chose not to go on the Academy at all. This is Flores's second year on varsity, and she misses the Academy players.
"I had a lot of friends that played with me last year that aren't going to get to play with me (this year). A lot of them were our starting lineup, so it was kind of nerve-racking, but then we played last week, and we did pretty well, all as a new team together, so I'm not so much worried about the team and how we're going to do anymore, it's just (that) I miss my friends," Flores said.
However, there is still something to be gained. "More players got to play on varsity this year, and a lot of the juniors and sophomores probably wouldn't have been on varsity, because there wouldn't have been as many spots, so it gave a lot more opportunities for people to play at a higher level," Flores said.
Nutley has benefitted from the Academy rule. She is on varsity this year, as she chose not to pursue the Academy.
"Some of my friends made the team this year, which is really exciting, and they may not have if there wasn't more spots," Nutley said.
As for Ray, "The new rule has helped me really focus on club, and since Academy is owned by the National Team, three players on my team have been called up into the National pool, so they have the chance to play on the national team."
Ray wishes the Academy could have also allowed them to play on the high school team. "High school is what really makes soccer fun, and if you're not playing for fun, then it's just kind of a burden on you, so I wish they could've let us do that."
Despite the disadvantages of the rule, Nutley is still optimistic about the coming season. "I still expect us to do really well in this season, and hopefully make it to CIF and be just as good as the last team."