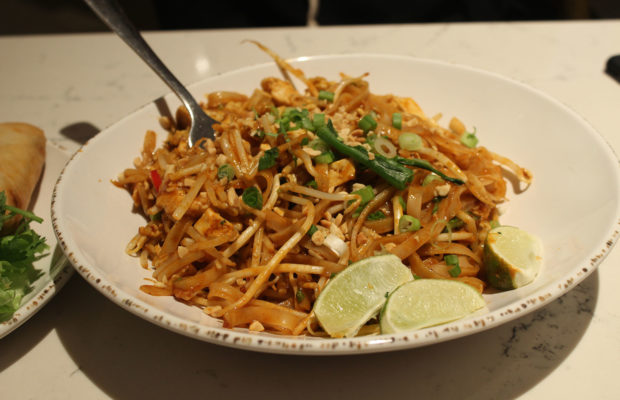 Social Monk is the newest Asian fusion spot in Conejo Valley. The restaurant opened a couple months ago in the Promenade at Westlake, bringing a fresh flavor to the shopping complex. Ever since, we have seen countless ads for the restaurant on social media, displaying mouth-watering photos of pad thai and spring rolls. It's also built up a reputation for its delicious, modern takes on classic Asian dishes, so we decided to check it out.
Seeing that Social Monk was opened by the people that brought us The Cheesecake Factory, we were a little skeptical before walking into the establishment. We all know that a visit to The Cheesecake Factory ends with three thousand extra calories and a stomach full of oil. Since we had to attend 18 Hour at NPHS an hour later, this would have not been the ideal scenario. However, after walking in, we quickly realized that Social Monk was a much different establishment.
The restaurant has a service system somewhat similar to a fast food restaurant. You order your food at the counter, receive a number to put on your table and wait for the food to be brought to you. In terms of design, they did their best to try to make it look like an Asian restaurant. In the end, it simply gives off the feeling of another typical Americanized Asian fast food place.
The menu mainly consists of typical Asian classics from Thailand to China, ranging from noodles to sandwiches and small plates. The moment we looked at their menu, we knew that their food was directed more toward an American crowd, since traditional Asian restaurants typically don't serve salads, sandwiches and custards.
We started with the crispy spring rolls, a plate of four decently-sized rolls stacked aside sweet and sour sauce and a leaf of lettuce. The dish lives up to its name: crispy spring rolls, nothing special, but good. Since we both love Thai food, we were truly excited for the chicken pad thai. The portion size was large, definitely enough for one person and sufficient for two people to share. Just as expected, the dish was very sweet, but it had a good flavor and mouthfeel overall. As a last minute decision, we ordered the dan dan noodles which were very different from the actual Chinese dish. However, it had a good taste to it, slightly sweet but with a spicy flavor. Considering that all of our dishes were under $12 and were ready in 30 minutes, we were impressed with the quality that we received.
Overall, we would describe Social Monk as a Panda Express with better service and ambience. While it didn't meet the standard of authentic Asian food, it would be a nice place to eat if you're short on time and craving Asian food. We would give the food a 7 out of 10, but considering how cheap it is, you are definitely getting your bang for your buck at Social Monk.
You may also like...
The Panther Prowler

The Panther Prowler is the official publication of Newbury Park High School, created and produced by Advanced Journalism students. The Panther Prowler is published every three weeks throughout the school year. Guest letters to the editor are welcome but must be signed.

Twitter

Instagram
Copyright © 2014 Panther Prowler.